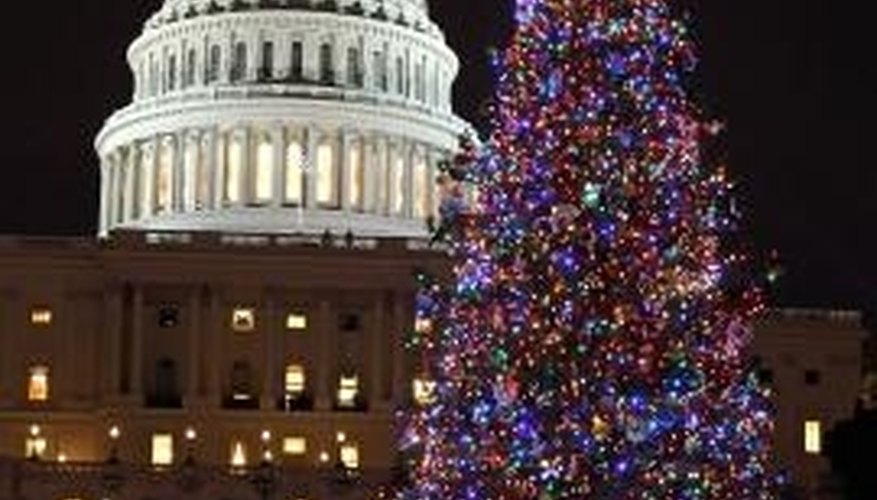 It is no wonder that the U.S. National Christmas Tree has been a blue spruce since 1973. The Colorado blue spruce, Picea pungens, is symmetrical, with layered branches that increase in length as they descend the trunk. Native to the western mountains -- Yellowstone to New Mexico -- the blue spruce grows at altitudes of 6,000 to 10,000 feet. Although the tree usually has green needles, some blue spruce trees develop a waxy bloom on the needles that paint the tree a deep blue. Most of the problems ornamental blue spruce trees suffer show up in needle color.
Look at your blue spruce's needles. Normal, healthy spruce needles are about 1 inch long and dark green or spectacular blue. The blue comes off on your fingers if you rub it; this is not a sign of illness. Keep your eye out for needles that turn purple-brown in the fall, then fall off the following spring. This is a primary sign that the blue spruce suffers from Rhizosphaera needle cast, a disease that increases after a rainy spring or other times of high humidity.
Inspect the needles for rows of black dots. This is another sign of Rhizosphaera needle cast. Purchase fungicides against Rhizosphaera -- thiophanate methyl or chlorothalonil, for example -- from your local garden center.
Look for yellow needles on your blue spruce. Yellow needles that eventually fall off, leaving entire branches bare, indicate a stress problem. Keep your tree as stress free as possible by providing adequate water throughout the year. Unfortunately, much blue spruce stress arises from being planted in elevations lower than 6,000 feet, an issue only transplanting can remedy.
Inspect the yellow needles closely. If the yellow appears speckled, your tree may have spider mites. Get a sheet of white paper. Hold it under the branch while you shake the yellow needles. Look on the paper for tiny, eight-legged spiders with tan heads and dark abdomens. Spray the infected area repeatedly and regularly with a hard stream of water, or purchase appropriate pesticides.