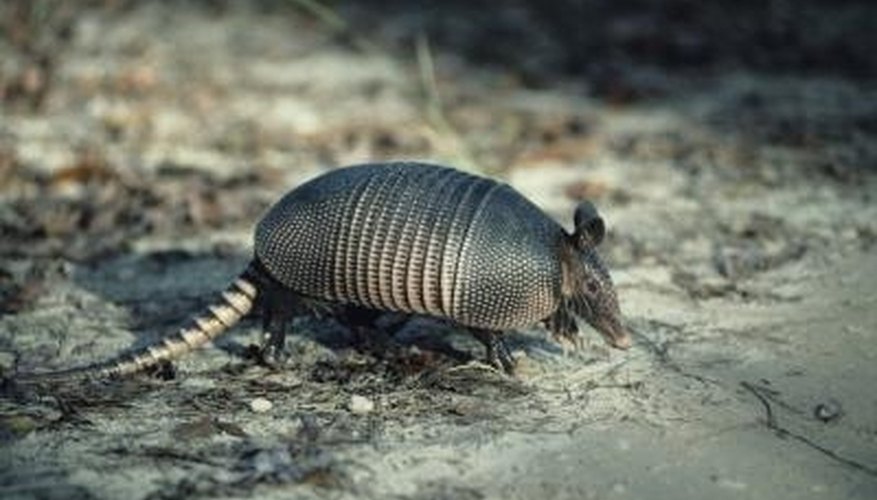 As a burrowing mammal, armadillos dig under woodpiles, sheds, outdoor structures and houses. Armadillos are active at night, so the small dirt patches may provide the only evidence that one has taken up residence in your yard. Although they are not harmful, they may be problematic to the foundation of the building and the appearance of your yard. You may use thick gloves and protective clothing to catch one with your hands, but these small animals are surprisingly quick.
Watch the armadillo in the evening, if possible, to determine its routes and habits.
Purchase a commercial live trap or construct one from fencing material that will close behind the armadillo. Armadillos resemble large cats in size, so raccoon traps work well.
Place the trap in the armadillo's path. If you don't know the spot, place it along a fence or building so the armadillo can't go around it.
Construct a temporary fence or secure wide boards to stretch from the cage to funnel the armadillo into the trap.
Decide whether or not to bait the trap. Experts suggest baiting does not increase the odds of success, but others believe overripe fruit or earthworms attract the armadillos.
Watch the trap or check it every fifteen minutes to ensure anything caught is not left alone too long.
Release anything that is not an armadillo and reset the trap.
Transport the trap after you catch the armadillo to a location away from your house. If you choose a deserted place near water, the armadillo is more likely to stay where you release it.