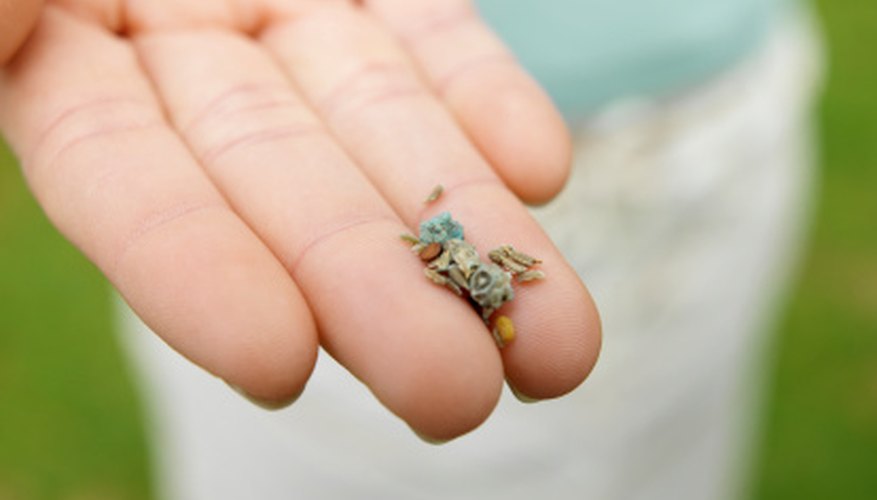 If you want to give your garden plants a good head start, consider germinating them indoors. By germinating your seeds indoors, you will prevent them from being exposed to any harsh weather, or to any animals that may eat them. Germinating seeds indoors is not terribly difficult, and you can make your own seed germinator from just a few household items that you probably already have in your kitchen. You don't even need any soil for your germinator for it to work effectively.
Step 1
Choose a rectangular plastic container. Ensure the container is clean. Wash the container is it not thoroughly clean.
Step 2
Line the bottom of the plastic container with two layers of paper towels. Fold the paper towels accordingly to make them fit into the container properly.
Step 3
Fill a spray bottle with water. (Distilled water is preferred, but not absolutely necessary.) Spray the paper towel layers in the container until they are damp, but not soaked.
Step 4
Place your plant seeds in rows, on top of the damp paper towels. Space the seeds out so that they are at least 2 inches apart. This will give them room once they sprout.
Step 5
Cover the seeds with another layer of two paper towels. Spray the paper towels with the water bottle until they are damp.
Step 6
Cover the container with its lid. If you do not have a lid, you can use plastic wrap to cover the top of the container. Use a large rubber band or tape to hold the plastic wrap in place if you need to.
Step 7
Set the container in a warm place. Put the germinator on top of your refrigerator, or on top of your hot-water heater. The seeds will react to the warmth, and will begin germinating in a few days.
Step 8
Check the seeds each day to see if they have sprouted. Depending on the types of seeds, it could take anywhere from a couple of days to a week for them to germinate. Transfer the seedlings to potting soil once the sprout is about an inch long.