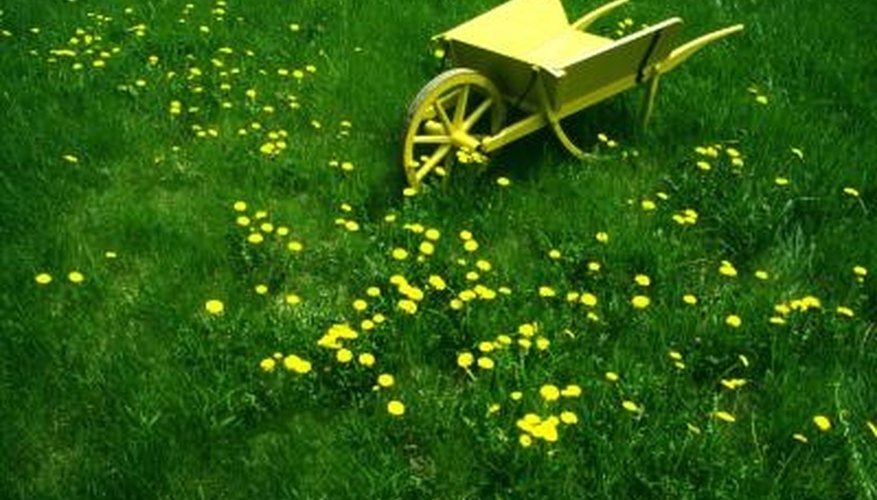 Weed B Gon is a broad-spectrum herbicide that kills more than 250 varieties of weeds in your lawn. The main ingredient in this concentrate is 13.72 percent dimethylamine salt, which kills weeds from the top of the foliage and travels to the root system to kill the weeds entirely. Adding marker dye to a spray mixture colors the liquid so you can easily see places with a lower concentration of the product or areas you miss while applying products to your lawn.
Put on safety glasses and gloves. Dress in long pants or jeans and a long-sleeved shirt to protect your skin from the chemical.
Turn the lid of a garden sprayer counterclockwise and pull it straight off. Carefully pour Weed B Gon into the sprayer tank. Measure and pour two ounces per gallon for northern grasses or one ounce per gallon for southern grasses.
Fill the sprayer tank with water to the gallon mark on the exterior that you measured the herbicide for.
Add one ounce of blue marker dye to the tank. Place the lid on the tank and tighten it clockwise. Pick up the sprayer and swirl it in a circular motion to mix the dye, water and herbicide until the contents are a uniform color.
Pump the handle up and down on the sprayer to pressurize the contents. Turn the applicator tip on the spray nozzle to obtain a flat, fan pattern and squeeze the trigger to apply the spray to your lawn. The blue dye will color the herbicide so you can see where you have already sprayed. Add more spray in areas of a lighter blue color to uniformly cover the lawn.