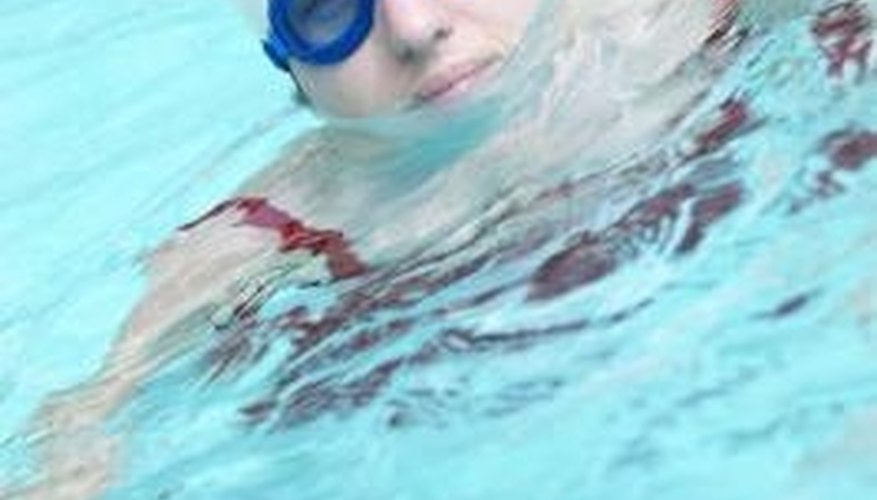 Intex manufactures a line of above-ground swimming pools, including the Easy Set models that quickly inflate with air, and models that have metal frames or walls for increased stability and sturdiness. Without filtration, the swimming pool interior surfaces can become green from algae and mold, and the water can get stagnant. Adding an Intex pool filter will help to clean the water and maintain a healthy environment for backyard swimming and fun.
Place the two black hoses on the outside of the pool on the ground near the two protrusions on the pool wall. Place the filter pump on the ground next to the ends of the two hoses.
Insert the nozzle union into the upper protrusion on the pool wall from the inside of the pool. The nozzle union has a rounded cap. Insert the strainer connector into the lower protrusion from the inside of the pool. The strainer connector has a flat cap. These two parts filter the water into and out of the pool through the pump via the upper and lower hoses.
Slide a hose clamp on both ends of one black hose. Press the two ends of the hose on the top exterior protrusion on the pool and the bottom protrusion on the filter pump. Slide the hose clamps over the protrusions on each end and tighten them clockwise using a flat-head screwdriver. Repeat this step to place the second hose on the bottom protrusion of the pool and the upper protrusion of the filter. The two hoses make a criss-cross, or "X" pattern. Each black hose is identical and it does not matter which is used in either position, so long as each is connected from the pool to the filter pump in an "X" pattern.
Twist the cap on the filter pump top clockwise to hand-tighten it. Fill the pool with water to at least one or two inches above the inner top connection. When water starts flowing out of the air release valve on top of the filter, turn the release valve clockwise to close it.
Plug the filter pump power cord into a GFCI electrical receptacle or an extension cord to a GFCI circuit. The water will now circulate in the pool and keep it clean.