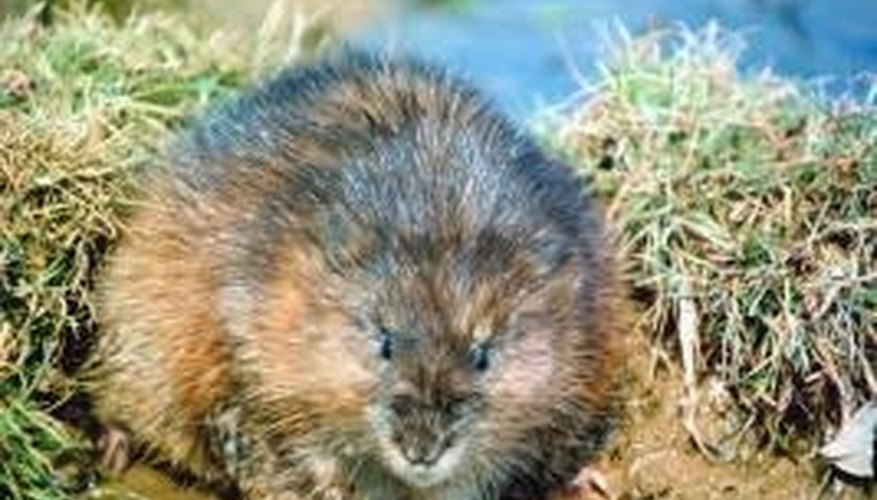 Muskrats (Ondatra zibethicus) hold the distinction of being the largest rodents in North America. An adult male can measure over 30 inches in length and weigh up to 4 pounds. Muskrats require a habitat with year-round water and abundant food. The rodents can cause extensive damage to dams, shorelines, docks, and floating docks. Muskrats also pose a threat to commercial rice and cranberry fields. An abundant population of the rodents can decimate the aquatic life in regions that support waterfowl. Consider trying nonlethal methods first to control muskrats.
Lower the pond's water during the winter months by at least 2 to 3 feet. Fill in the muskrats dens, burrows and runs with rock.
Cover the dam in stone to make it less appealing to muskrats. Extend the stone 3 feet below the water's summertime surface level.
Fence in gardens or valuable landscape plants so the muskrat cannot leave the water and reach the plants to forage. Building a fence around the pond and dam will also help rid the area of muskrats.
Remove the vegetation around the pond and in the water. Consider planting crown vetch along the banks to discourage muskrats. Muskrats do not like crown vetch, according to the Wildlife Damage Control's website.
Place a muskrat colony trap above water in a muskrat run to catch the muskrats in the area. Locate the trap in the middle of the runway, close to the burrow's entrance. Check the trap daily and relocate any muskrats to a new location.
Stake a stovepipe trap to the bottom of the pond at least 1 foot below the water's surface. Locate the trap near the entrance to a den. The muskrat will swim in and drown in the trap. The trap can catch more than one muskrat at a time. Check the trap daily.
Shoot individual muskrats in the evening and early-morning hours. Check with local authorities to determine if shooting in the area is legal.
Check with local authorities to determine if it is legal to use the Restricted Use Pesticide zinc phosphide for muskrat control. In areas where the poison is legal, use a solution that offers a 63 percent concentrate of zinc phosphide. Sprinkle the zinc phosphide on diced apples or carrots. Place the bait on a floating platform near the burrow's entrance.