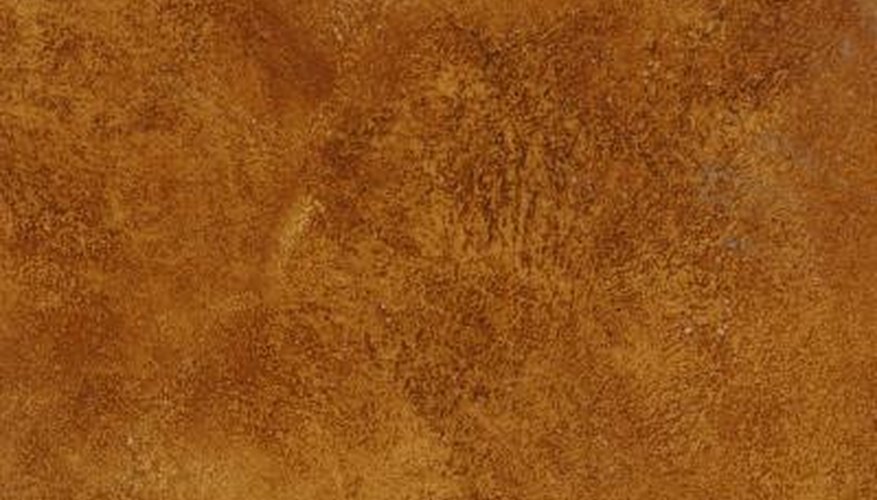 Finishing your concrete porch in a decorative fashion isn't nearly as difficult as you might think. Although it will take some time and patience, you can paint the floor of your concrete porch in the design of your choosing, so your imagination is really the limit. The key to a long lasting painted concrete surface lies in the preparation of the floor and the sealing of the design.
Step 1
Clear the concrete porch floor thoroughly of dirt, dust and other debris. Scrape existing paint or solid stains off the concrete with a putty knife. Use a wire brush to remove dirt stuck in the pores of the concrete.
Step 2
Mix a combination of warm water and strong detergent in a bucket. Pour the soapy water on the concrete floor, spreading it around the floor with a stiff push broom. Using a pressure washer, spray the floor thoroughly to remove any stubborn dirt or grease stains that may interfere with the paint. Scrub the floor with the push broom to ensure that the soapy water gets into the pores of the concrete to loosen the debris there.
Step 3
Rinse the concrete floor with clean water using the pressure washer. Rinse the push broom thoroughly and use it to push any remaining water off the porch floor. Allow the porch to dry for at least six hours. If it is still moist when you paint, the paint will bubble and peel.
Step 4
Apply a coat of concrete primer to the porch floor with a paint roller so the paint will adhere properly. Cover the entire surface of the porch floor; any unprimed space is subject to the paint peeling later. Allow the primer to dry for six to eight hours before continuing.
Step 5
Draw the design you have chosen on the concrete floor with a piece of chalk. Each color of paint must be dry before moving on to another color, so make sure you consider the drying time when you choose your design.
Step 6
Paint the concrete floor with a high-quality porch and floor paint using a paint roller for larger sections and a good paintbrush for smaller sections. When using the roller, go over each section twice before moving on to ensure that the paint gets down into the pores of the concrete. This will give the porch a more finished appearance.
Step 7
Allow the paint to dry for at least four hours before applying additional colors to your design. If you are not painting a multi-color design, wait 24 hours before applying the second coat of paint. Once you've applied the second coat of paint, wait 72 hours before allowing normal traffic on your concrete porch.
Things You Will Need
Broom

Putty knife

Wire brush

Water

Soap

Bucket

Push broom

Pressure washer

Concrete primer

Paint roller

Chalk

Porch and floor paint

Paintbrush