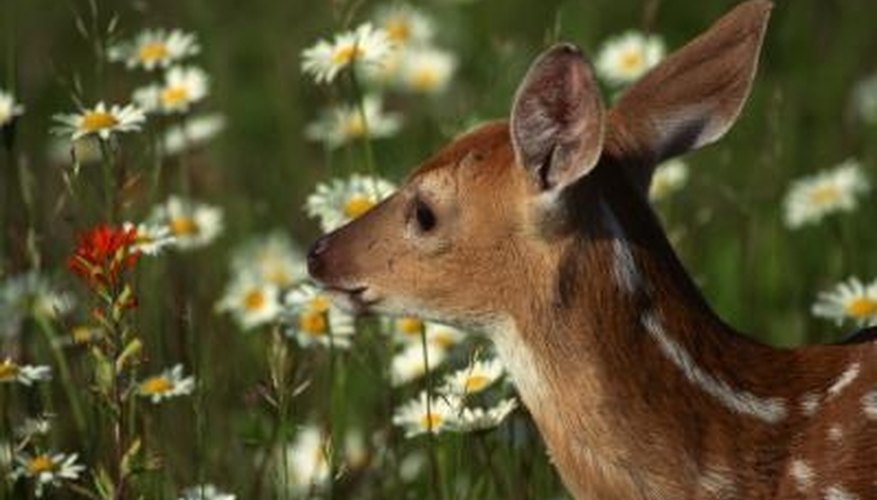 When you spend a lot of time and money caring for your garden, it can be disheartening for animals like deer to come along and eat your flowers and tree leaves. While deer are common to many areas of the United States, as once-wooded areas have become populated, the deer find themselves grazing in yards rather than meadows. Overpopulation of deer is also a problem in many areas. You can stop deer from eating the plants and trees in your garden.
Install a fence around your garden to prevent deer from entering. Because deer can jump very high, you will need to construct a fence that is at least 8 feet tall. If your yard slopes steeply downhill, the fence might need to be higher. Fence your entire yard if you want to completely keep out deer. Another option is to simply install a fence around your garden space if you don't mind the deer entering other areas of your yard.
Plant flowers and trees in your garden that deer don't enjoy. There are many plants that deer will not eat, unless there is absolutely no other food to be found. For example, choose plants like asters, Atlantic white cedar trees, butterfly bushes, geraniums, pansies and Virginia bluebells.
Purchase a deer-deterring spray from a local home and garden shop. These sprays contain ingredients that deer do not like. Follow the instructions on the brand of deer-deterring spray you choose and spray it around your garden and the base of trees. You will need to regularly reapply the spray to keep the deer away, especially if it rains.