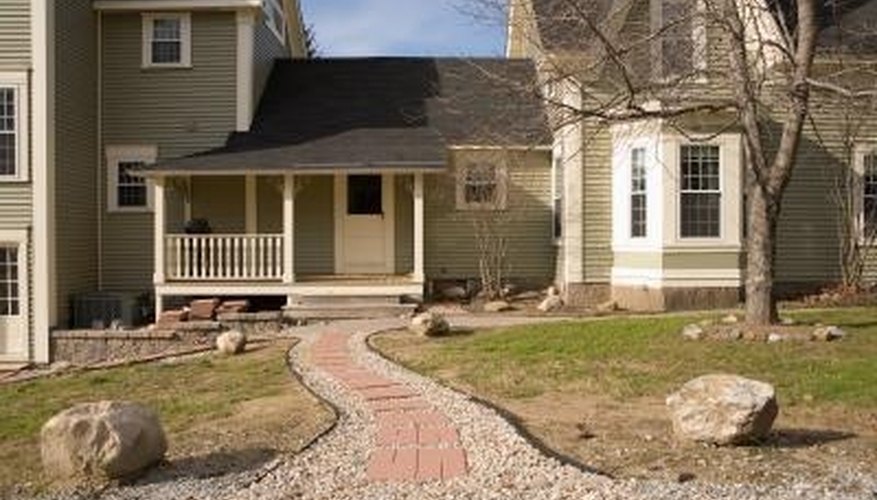 Jupiterimages/Photos.com/Getty Images
Gravel is an affordable landscaping material used for a variety of purposes including patios, walkways and driveways. While gravel surfaces are simple to maintain and can last for many years, you should remove as much as possible before laying down a new surface or planting a garden in its place. Removing gravel is a straightforward process, but can be labor intensive. You'll need basic tools and a considerable amount of time to finish the project, depending on the size of the area.
Review the weather forecast and wait for a sunny day to begin work. Precipitation will turn dirt around and beneath the gravel into mud, making the job messier and more difficult.
Set out a wheelbarrow for the gravel and a separate bucket for the mixed gravel and dirt. The top layers will be mostly gravel, but as you remove the bottom layer of gravel you'll scoop up dirt with the rocks. If you plan to re-use the gravel or give it to someone who will use it, it's worthwhile to keep the cleaner gravel separate.
Put on a pair of gloves and slide a shovel under the gravel beginning in one corner. Dump the gravel in the wheelbarrow and continue digging in the first section until you reach the last inch of gravel. Scoop the remaining gravel embedded in the soil into the bucket. If you plan to build a paved or natural stone walkway, you'll be able to reuse the gravel and dirt over landscape fabric as a bottom layer in the foundation.
Continue to dig up the gravel, working your way across the surface. Dump the wheelbarrow in a trailer or designated area to prevent the gravel from spilling over.
Things You Will Need
Wheelbarrow

Buckets

Gloves

Shovel
Tip
Wear gloves for hand protection as some pieces of gravel can be sharp.
Resources