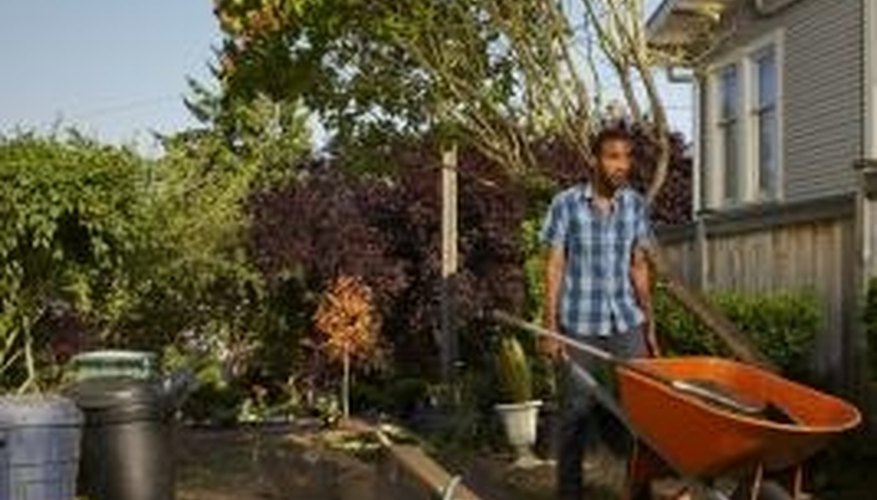 Tumbled stone pavers add a rustic yet classic touch of style to your paver sidewalk or patio. Tumbled stone pavers can be made of most types of stone, but the most common is travertine. The edges and corners of the paver look rough and wavy. There are often many holes in tumbled stone pavers. Homeowners typically choose these pavers because they have a weathered and antique look. Installing a tumbled stone paver is similar to installing regular concrete pavers.
Call your local utility company to find out where gas or sewer lines may be located in your yard. Do not start digging until you know where the utilities are located.
Plan for and excavate the yard or driveway where the tumbled stone pavers are going to be installed. Dig down into the dirt approximately seven or eight inches. This will leave you enough room for the gravel and sand base beneath the pavers.
Install landscape edging along the sides of the excavated soil. Follow the manufacturer's directions to install the landscape edge. The landscape edging will help to keep the tumbled stone pavers and gravel in place over time.
Compact the soil beneath in the excavated portion of the yard with a plate compactor. Plate compactors can be rented from a local rental or home improvement center.
Lay down a 5-inch layer of crushed gravel. Compact the layer of gravel with the plate compactor.
Spread out a 1-inch layer of sand on top of the crushed gravel. Smooth the sand so it is level.
Press the tumbled stone pavers into the sand. Use a diamond blade wet saw to cut the pavers to cut the tumbled stone.
Fill the joints between the stone pavers with masonry sand. Sweep the sand between the tumbled stone pavers with a broom. Keep extra sand on hand to refill the joints a few days later. The sand will settle over time and with rain or moisture.