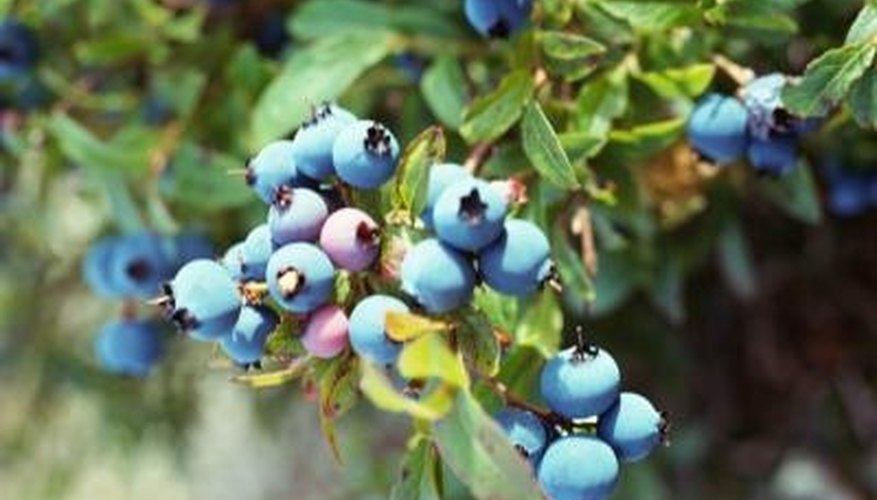 Not all black or dark blue berries are safe to eat, for humans or animals. Make sure you know what type of plant you're picking berries from before making jam, using them in pie, nibbling while on a hike or even allowing your pet to snack on them. Some can make you sick, while others can be deadly. Plants with berries are best identified by taking note of their leaves, stems, flowers and fruit.
Note whether the plant is growing low to the ground, if it is a tree or shrub, or if it is a vine. Except grapes, most black or dark blue berries that grow on vines are either poisonous or look so much like those that are poisonous it is not safe to eat them. Write down this finding and those outlined in the following steps to create a list of berry plant characteristics.
Notice the color and texture of the plant's leaves and if they grow near the base of the plant, near the top of the stems, or all along the stems.
Note whether the leaves are whole or divided and if they are situated directly opposite each other, placed on alternating sides of the stem or in a spiral.
Measure the length and width of a single leaf with a ruler or measuring tape. Then determine whether the edges of the leaves are smooth, scalloped or jagged. Write this down with the other information you've collected so far.
Look closely at the berry plant's stem and write down its color and texture, for example, whether it is smooth, fuzzy, knotty or thorny.
Write down the attributes of any flowers on the plant, including their color, width, smell (if any), how many petals there are on each flower, if possible, and whether the flowers are single or clumped together in groups.
Notice the details of the black or dark blue berries, including whether they are smooth, hairy, shiny, bumpy or powdery. Like you did with the flowers, note whether the berries grow as single units or whether they grow bunched together like blackberries.
Take a photo of the berry plant and close-up shots of the leaves, flowers and berries if possible.
Take the information you wrote down and the photos to a local nursery or botanical center where a professional can help you identify the plant with the black or dark blue berries. Sources on the Internet can also help you match the characteristics of your berry plant, including the Plant Picture Pages developed by Texas A&M University, linked in the Resources below. Compare your photos and information with those posted on the website. A field guide is also a good source of information.