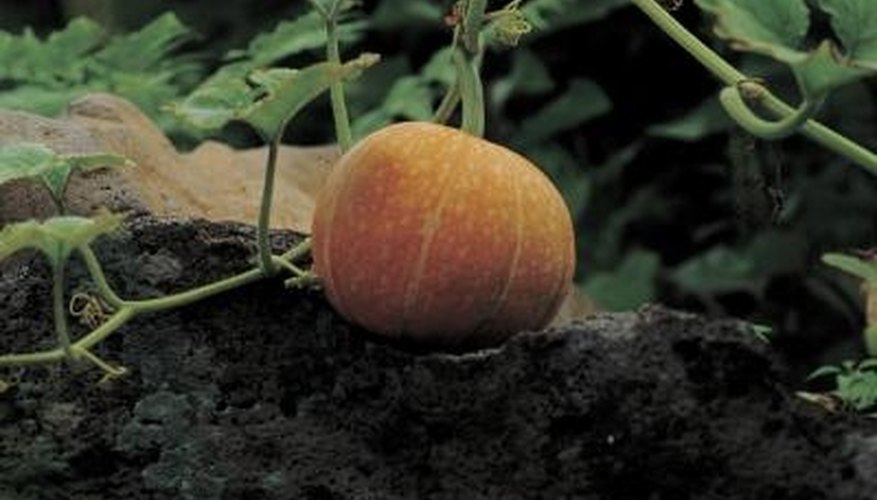 Animals in the garden can cause a great deal of damage to all kinds of vegetables, including pumpkins. If you are trying to grow a pumpkin crop and are having trouble with pests destroying the plants, you'll need to take action as soon as you can. The methods will depend on what animals you are trying to keep away.
Erect a fence to keep deer away from your pumpkins. The fence should be 8 to 10 feet high if you are depending on height alone to keep deer away. A shorter fence will work if it is solid, since deer usually won't jump a fence if they can't see what is on the other side. You can either make it of solid boards or cover it with black plastic attached to the fence.
Hang bars of deodorant soap from trees and fencing near the pumpkins. These can also be placed in and around the pumpkins to discourage deer, which don't like the smell.
String two layers of fishing line around the garden, one 2 feet off the ground and one 4 feet off the ground. This will spook the deer if they touch it, since they aren't able to see it well, and they will often leave the garden alone.
Install a 1-inch mesh chicken wire fence buried 6 inches into the ground to deter rabbits and other small animals. The fence should be at least 2 feet high. If you have problems with both rabbits and deer, use this fence as the bottom section of a deer fence.
Rake up any loose litter on the ground, especially close to the pumpkins. Small garden pests, particularly voles, use this litter to hide in and will tunnel right up to the pumpkins to eat them. Removing the litter reduces the areas where the voles feel safe and discourages them from coming into the garden.