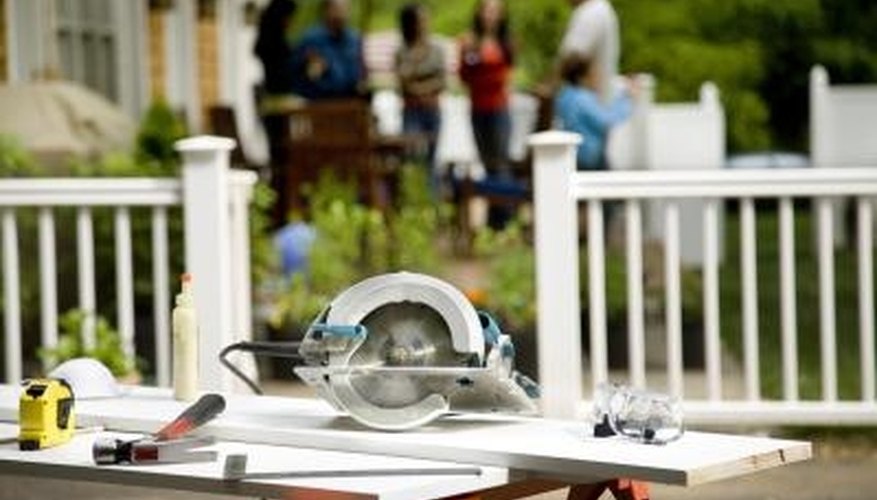 If you need to cut through concrete, you must use a masonry saw blade such as a 7-inch dry-cut diamond blade. A diamond blade is not cheap, but in many cases, the cost is less than renting a walk-behind concrete cutter. To use a diamond blade, you must install it onto a circular saw, set the appropriate depth and then make the cut.
Disconnect the circular saw from its power source to prevent it from turning on while you work on the blade.
Take note of the teeth on the current blade. You must install the 7-inch diamond cut blade so the teeth rotate in the same direction.
Rotate the safety shield out of the way and place the spanner wrench provided with the saw on the retaining nut located in the middle of the blade.
Press the shaft lock-pin located next to the motor. This locks the shaft in place to prevent the saw from spinning.
Turn the spanner wrench clockwise to loosen it. Saws utilize a reverse thread. This prevents the nut from working loose while you use it.
Pull the old blade off the arbor and place the 7-inch diamond cut saw blade onto the arbor.
Thread the retaining nut onto the arbor counterclockwise and tighten it with the spanner wrench. Let go of the shaft lock-pin.
Loosen the depth gauge lock located on the backside of the saw. Place the saw on the ledge of a table and press down on the handle. This will force the blade downward. Set the depth at 2 inches. Measure off the bottom of the saw's base to the tip of the saw blade with a tape measure.
Stretch a chalk line from the starting point of your cut to the ending point of your cut and snap the line on the concrete. This will leave a visible line for you to follow.
Center the blade up with the cut and angle the back of the saw upward to remove the blade from the concrete. Press the trigger to turn on the saw.
Slowly lower the saw blade into the concrete and slide the saw blade through the concrete while you follow your line. Proceed slowly and grip the saw tight in the event of kickback.
Release the trigger when you get to the end of your cut, allow the blade to stop rotating and lift the saw blade out of the concrete.