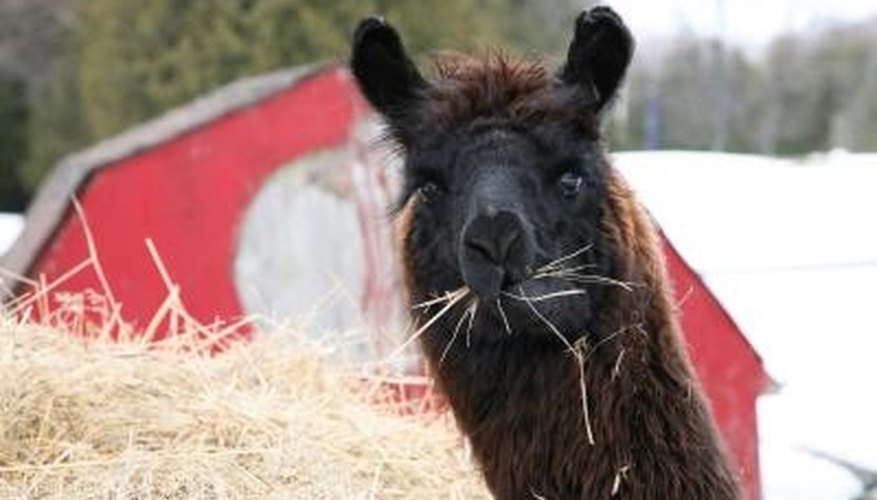 Alpacas are still rare in North America, but farmers increasingly treasure these South American natives for their rich, soft wool. Easy to raise, alpacas are about half the size of their more familiar cousins, llamas. If you raise alpacas -- or live near an alpaca farm -- you can enjoy another benefit of these interesting animals, turning their manure into useful garden compost in as little as 120 days. Alpacas tend to leave droppings in 1 or 2 specific areas, making it easy to collect manure for composting.
Shovel up the alpaca manure using a flat-bottomed shovel. Gather it in a wheelbarrow or garden cart.
Dump the manure onto a site located well away from running water, groundwater and your property line (see Warnings). You can loosely pile your compost or confine it in a prepared compost bin.
Scoop up the alpacas' bedding in the same way. Layer it onto the pile. Bedding, such as old straw or hay, will add the necessary carbon to the nitrogen-rich manure and speed up the decomposition process by the microorganisms living in the mixture. Strive for a mix of approximately 1 part bedding to 3 parts manure.
Continue adding manure and bedding in layers. A loose compost pile should be 6 to15 feet across at the base, 3 to 8 feet tall and roughly cone-shaped.
Cover the pile with a tarp. This will slow down drying and runoff.
Check the moisture level of your compost pile; when you pick up a handful of the material, you should be able to squeeze out a few drops of liquid. Add water to a dry pile; if the pile is too wet, add more bedding or allow it to sit uncovered. Check the pile regularly, even daily in hot weather.
Remove the tarp and turn the pile with a shovel at least weekly. This process aerates the compost, allowing the microbes to breathe. The compost is ready to use when it is dark brown and crumbly, with an earthy smell.