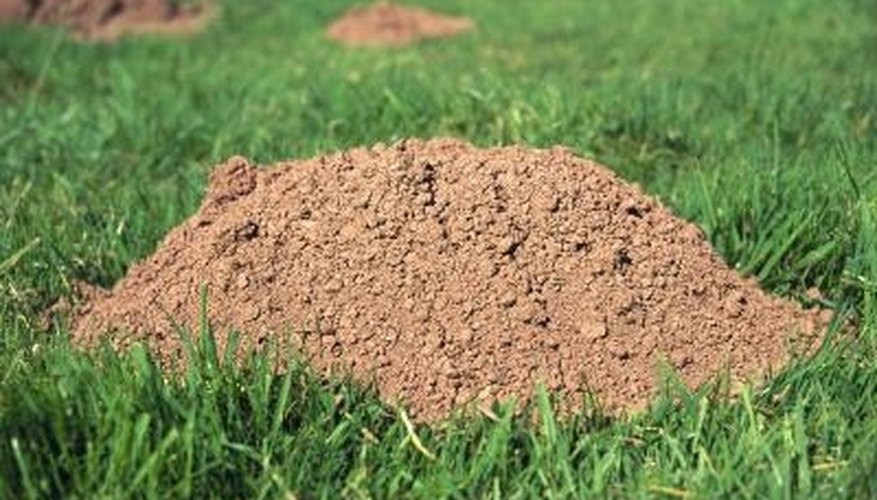 Unsightly mole hills can ruin the appearance of a well-kept yard and can pose a safety risk to people and animals. Your garden may suffer if you allow moles to remain on your property. Once you notice the appearance of mole hills in your lawn, it's important to drive the moles from your property before significant damage is inflicted on your lawn and garden.
Drive sonic spikes into your lawn around areas where you notice mole tunnels. Because moles are blind and use their sense of taste and hearing to navigate your lawn. By driving sonic waves into the sensitive ears of moles, you can effectively push them out of your lawn. Sonic spikes are available from most home and garden stores or from online retailers.
Purchase a mole repellent and spray your lawn several times according to the instructions. A mole repellent will coat worms with a bad-tasting film that will upset the mole's stomach. Use this in combination with the sonic waves to drive existing moles from your property.
Make it difficult for the moles to enter your yard by placing a rock border around the lawn or around any wooded areas where moles are likely to enter, if it's not possible to put a rock border around your entire yard. Blocking the wooded areas will prevent many moles from entering your yard because moles live in wooded areas and enter your yard through them. Dig the rock barrier between eight and 10 inches deep and place whatever rock variety you please to line the border. Use colorful rocks or plant flowers around the border to bring a colorful appearance to the lawn.