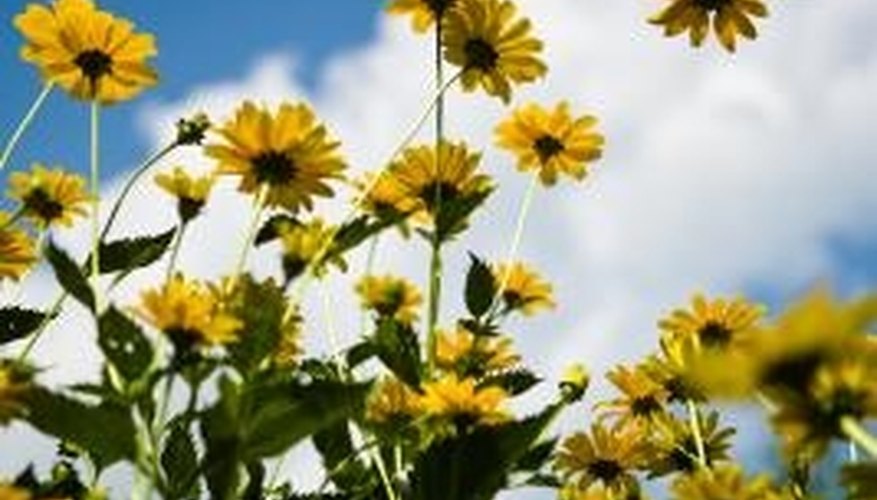 Sunflowers grow about 6 feet tall. Flowers heads are made up of clusters of a multiple tiny flowers that appear as one big flower. Sunflowers produce seeds for harvesting about 90 to 100 days after planting. The dried seeds make tasty treats for people and wildlife. Before harvesting the seeds, the correct conditions must exist or the seeds will not be viable for consumption.
Watch the sunflowers as they mature. When the green backside of the flower disk starts to turn yellow, use pruning shears to cut the flower head and 1 foot of stem from the plant.
Tie a piece of string around the stem. Hang up the stem in a well-ventilated area to continue drying. This won't take more than one to two weeks. Keeping the heads up off the ground prevents rodents from reaching the seeds during drying.
Place a paper bag under the drying flower head. During the drying period, the bag will catch any seeds that fall off the flower head before you are ready to manually massage the head to remove the seeds.
Gently rub the brown center in front after one to two weeks when the backside of the disk head has turned brown. As you rub the center, the seeds will start falling out into the bag. When you have removed all the seeds, let the seeds sit in the paper bag for two to three days to dry completely.
Store the dried seeds in a cloth bag or roast the seeds to make healthful treats. Place raw seeds stored in a cloth bag in a location with good air circulation so the seeds don't mold.
Things You Will Need
Pruning shears

String

Paper bag

Cloth bag