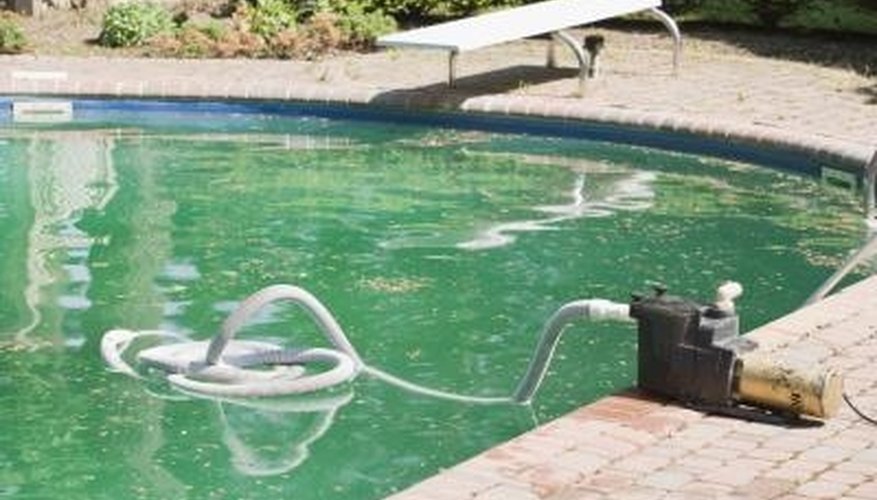 Algae spores cause a great number of problems in swimming pools. Algae growths enter a pool through rainwater or already contaminated objects such as bathing suits. The algae spread and settle on pool surfaces, coating the surface with a green, slimy layer. Algae in a small Intex pool require weakening before a proper vacuuming will be effective. You need to clean the water with vigorous brushing along with vacuuming the algae through the filter system.
Attach a brush head to a pool pole and scrub algae-coated surfaces of the Intex pool.
Attach a pool vacuum head to the pool pole. Place the vacuum's hose on the connection on top of the vacuum head.
Plug the free end of the vacuum's hose into the hole at the bottom of the pool skimmer. Turn on the pool pump to begin water flow.
Maneuver the vacuum head over the pool floor with the pole. Move slowly to allow the vacuum to suck up and remove the algae on the bottom.
Shut off the pump after the suction of the vacuum weakens. Unscrew the lid of the pool filter. Remove the filter cartridge and spray it with water to remove algae clinging to the filter.
Place the cartridge into the filter and screw the lid back into place. Continue vacuuming the algae off the pool bottom. Repeat the filter cleaning process if suction weakens.