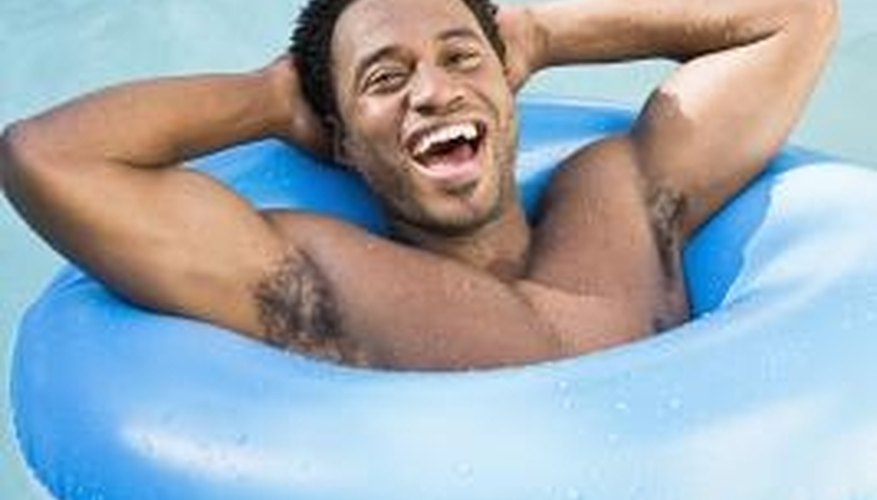 Sometimes a pool filter can become clogged due to particles and debris passing through the filter baskets and into the filter unit. An easy solution to the problem calls for the use of knee-high stockings or pantyhose. The stocking material will catch tiny dirt particles and hair that would otherwise make its way to the filter unit. You can use a knee-high in place of a pool vacuum filter. After using a knee-high to better filter your pool, you can just throw it out, eliminating the need to untangle hair and bugs from it as you would from a vacuum filter's mesh.
Remove all filter baskets and clean them out. Empty the debris into garbage bags and tie them shut.
Spray the baskets down with a garden hose until they are completely clean and free of debris. If needed, scrub debris off with a stiff brush.
Stretch a knee-high pantyhose around each basket. Tie it around the top with sturdy, thick string to prevent it from rolling down.
Replace the baskets. Empty the baskets daily and replace the pantyhose if it has debris building up on it, limiting its ability to filter. Throw away the old pantyhose.
Take the pool vacuum out of the pool.
Remove the vacuum filter bag.
Wrap the opening of a knee-high around the vacuum filter bag attachment.
Secure the knee-high to the vacuum with a rubber band.
Empty the vacuum bag after use and replace the knee-high filter if it becomes clogged with debris.
Things You Will Need
Garbage bag

Garden hose

Stiff brush

Thick string

Knee-high pantyhose stocking

Rubber band