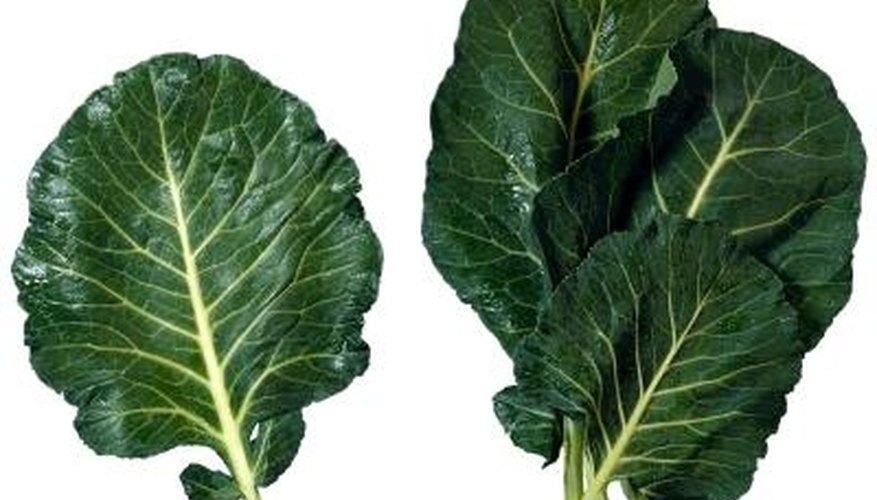 Collards, also known as collard greens, are leafy vegetables rich in essential vitamins, including vitamins A and C, potassium and calcium. Their nutritional value increases when cooked instead of leeching out into the cooking water. A cousin of cabbages, collards are a cool-weather vegetable that can tolerate frost. This attribute means collard greens can be planted in both early spring and late summer. Home gardeners can grow collards from seed or transplant purchased seedlings. Either cut the entire plant down to eat when it is young and tender, or allow the collard to fully grow and harvest the leaves.
Prepare a garden bed with heavy, loamy soil for the best yields and for fall collard crops. Prepare the collard plot with sandy, well-draining soil for spring crops.
Test the soil's pH with a testing kit, regardless of which soil type you are using. Amend the soil if necessary to reach a pH between 6.0 and 6.5.
Apply a soil fertilizer of 10-10-10 to the garden bed to increase the nitrogen collards require. Use 1 to 2 pounds of the fertilizer per 100 square feet.
Plan to plant collard greens in early spring for early summer yields or midsummer for autumn and winter yields. You can plant both times by picking the early summer growth and re-amending the soil for the second planting in midsummer.
Dig long rows 1/2 inch deep and 2 feet apart and sprinkle in collard green seeds several inches apart, if growing from seed. Cover the rows with soil. As the plants grow, determine which ones you want to let fully grow and cut the collards in between. Cut down enough plants to leave 15 to 18 inches of space between fully grown plants, or 10 to 15 inches for collards that you will cut when half-grown.
Plant seedlings several inches into the ground, if using seedlings instead of seeds. Space the plants depending on your plans for harvesting the collards. Space the plants 2 to 4 inches apart if you plan to cut the entire plant when it's young. Plant the seedlings 10 to 15 inches apart to cut the entire plant when it's half-grown. Space the seedlings 15 to 18 inches apart to either harvest leaves from fully grown plants or cut the entire fully grown plant.
Water enough for your climate that the soil is moist, but never puddled with water.
Harvest entire young plants when they reach 6 to 10 inches in height. Harvest leaves off of larger plants as needed.
Examine the collards regularly for signs of aphids or cabbage worms. Spray the leaves down with water to remove the pests, or use a pesticide safe for edible vegetables.