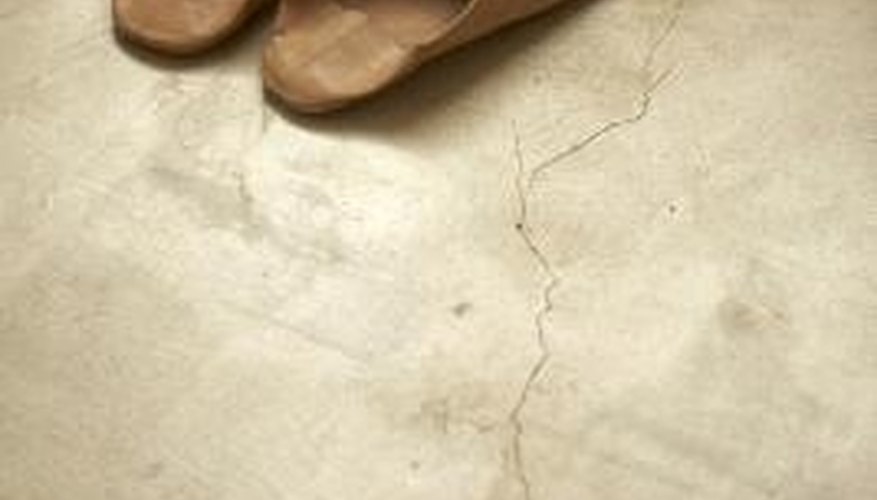 Concrete floors are not very desirable within a home. Not only are they cold and unpleasant to look at, they often seep moisture into the home. To add vinyl flooring or hardwood floors, you need to install a false floor over the concrete. This is called a subfloor. The subfloor is made of wooden boards. The boards prevent the fluctuating temperature of the concrete and the moisture it can produce from destroying the aesthetically pleasing floor that sits on top.
Measure the length and width of the room and multiply the two figures to get the square footage of the room. Use the measurement to order the particleboard.
Place a long 2-by-4 on the floor and use it to check for low spots. Low spots will leave gaps beneath the 2-by-4. Fill in holes with concrete putty, smoothing them down with a trowel and sanding them even with the rest of the floor.
Set the particleboard in the installation room and allow it to sit for 24 to 48 hours to adjust to room temperature.
Place the first pieces of particleboard along the wall farthest from the door to the room. Leave a 3/8-inch gap between the wall and the board to allow for expansion over time.
Lay all the particleboards out on the floor, placing them perpendicular to each other. Stagger each row like brickwork so none of the board corners are touching. Cut boards to size using a circular saw if you require a partial piece.
Apply galvanized ring grooved underlayment nails to the panels, starting in the middle of the boards and working out toward the ends. Apply the nails every 6 to 10 inches, going no closer than a 1/2-inch from the edge of the boards and no farther than 3/4 of an inch away.