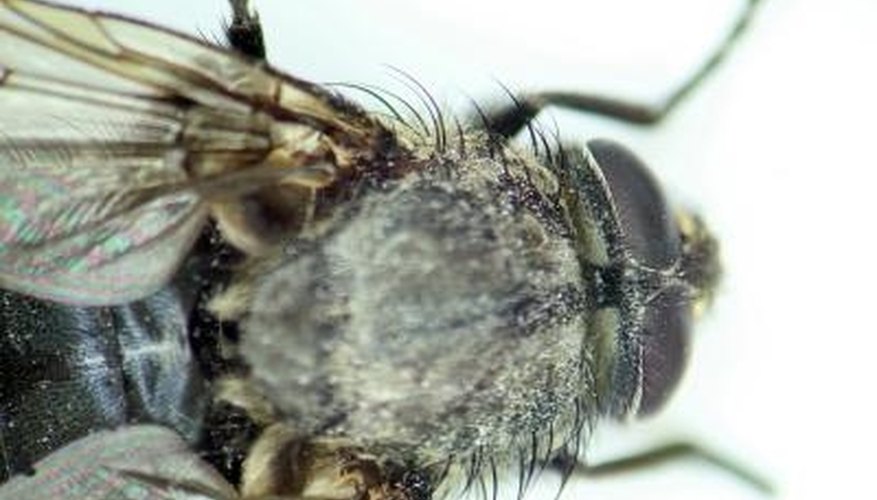 The loud, constant buzz of a swarm of flies ruins even the most enjoyable picnic or barbecue. Not only are flies irritating, they are unsanitary, spreading a layer of germs on every surface they touch. Instead of packing up the picnic and heading into the house, clear the space around your home of flies. This is not an impossible task, and it is essential for outdoor fun and enjoyment
Clean away garbage and debris from your yard. Flies tend to breed and congregate near standing water and refuse piles, and removing these minimizes breeding locations and cuts back on the number of flies outside your house.
Smack the offending flies with a fly swatter when possible. Hold the swatter in your hand, and swing it quickly downward toward the fly. Flies tend to land on window sills, outdoor garbage cans and patio furniture, so concentrate your efforts in these locations. Wash the fly swatter daily to keep it clean and sanitary.
Hang fly strips along the edge of your deck or patio, and near each exterior entrance to your home. Fly strips are coated on both sides with a strong adhesive to catch the bugs before they invade your home. Replace the strips with clean ones when they become coated with flies.
Set a number of outdoor fly traps around the exterior of your home. Open the trap according to the package directions, and hang it from a porch rail or window frame. Fly traps are baited with potent liquids that draw in flies and trap them inside. Throw the traps away when they become full.
Enlist some chickens in your battle against flies. Chickens are natural omnivores that gladly eat offending insects, reducing the number of flies outside your home.
Plant a few natural fly repellents around the perimeter of your home. Plants such as basil and mint are not only useful for driving away offending insects, but they add a pleasant smell to your outdoor space.
Activate chemical fly foggers around the outside of your home. Foggers release fly-killing insecticide into the air, killing adult flies and larvae living around your home.