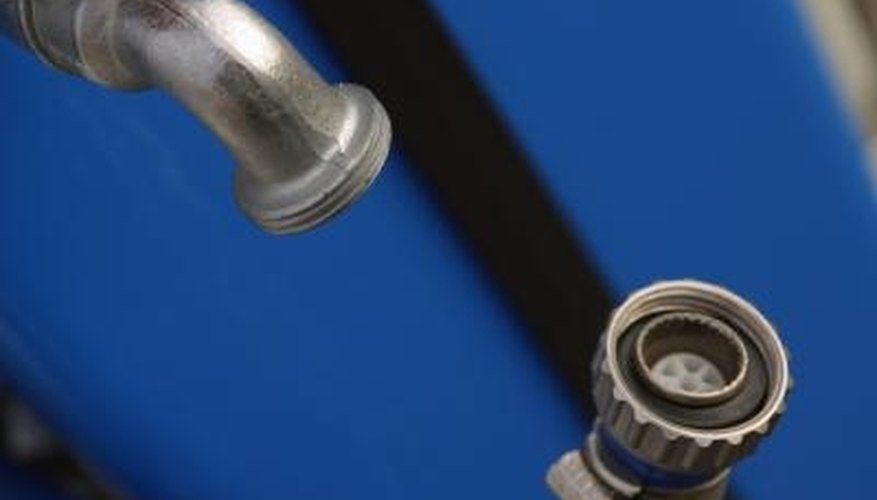 The controlled flow of a drip irrigation system uses considerably less water than a conventional sprinkler system; adding a drip system not only lowers utility bills, but also conserves resources. Although manufacturers offer professional-grade, underground drip system components for landscaping contractors, the most common method of installing drip irrigation is tapping in to an above-grade irrigation line or attaching the drip line directly to a garden hose faucet. Learn the quick, easy method of building a drip system from a hose faucet and you can expand your system in the future.
Press the hose-mount, the drip system pressure regulator's internal threads, against the external threads of the hose faucet closest to the area that you are irrigating. Turn the regulator clockwise to engage and tighten the threads. Pressure regulators indicate the direction of water flow with arrows printed on the regulator's body; find the arrow to ensure that the regulator faces the area you want to irrigate. Press the hose-to-drip adapter fittings threads against the threads of the regulator and twist clockwise to engage threads. Turn the adapter until hand tight.
Unravel the loose end of the drip tube from its roll. Force the loose end of the drip tube into the open end of the adapter until the end of the tube bumps and stops against the adapter's internal rib. Standard drip tube connects to adapters via compression and require no twisting or gluing. Unroll the drip tube and weave it around the plants or rows that you are irrigating.
Cut the drip tube at the desired termination point with PVC cutters or heavy-duty scissors. Press a tubing cap over the open end of the tube until the tube encounters the cap's internal rib; like adapters, drip caps connect via compression. Secure the tube to the ground with a drip-tubing stake every 18-inches to 24-inches. Position the stakes over the tube and pound the stakes into the ground with a mallet or hammer. Pound stakes carefully to avoid damaging the drip tube.
Puncture the drip tube above each plant with the drip punch tool. Press the barbed end of a drip emitter into a hole. Push emitter until the rim of its barb enters the interior of the drip tube. Insert an emitter into the remaining holes. Turn on the hose faucet to activate the drip irrigation system.