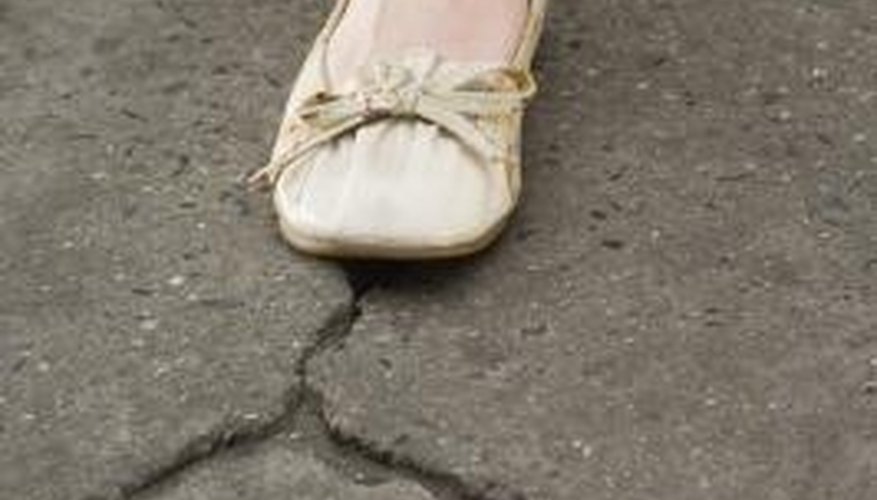 Concrete slabs crack, whether the slabs have steel reinforcements or carefully laid subgrades and no matter what thickness they were poured or how long they were cured. Though these factors add to the durability of the slabs, cracks are almost inevitable. Contractors cut control joints in concrete slabs to control where the slabs crack. It's important to cut them properly.
Multiply the depth of the slab in inches by two or three and convert to feet to get the spacing range for the control joints. A 3-inch slab should have control joints spaced 6 to 9 inches. The range allows you to alter the spacing to fit the layout of the slab. If possible, control joints should match up with corners and angles.
Mark where you want the control joints with the chalk line. Measure the slab and mark lines so that are a minimum 150 square feet per panel. Lay out the lines within the spacing range you determined in step 1 and then mark them with a chalk line. Spray the line with lacquer chalk line saver.
Set up the concrete saw, attach the water hose and set the blade for the proper depth. The control cut should be 25 percent of the total depth of the slab. A control cut for a 5-inch slab should be 1.25 inches deep.
Lower the blade onto one end of the first chalk line until it reaches the full depth. Pull the concrete blade backwards, following the line until the wheels of the saw reach the edge of the slab. Turn the saw around and start over from the other end of the line and pull it backward to meet the cut.
Repeat the process for all the control cut marks on the slab. Wash off residue of the lacquer line-saver spray and concrete dust after you finish.