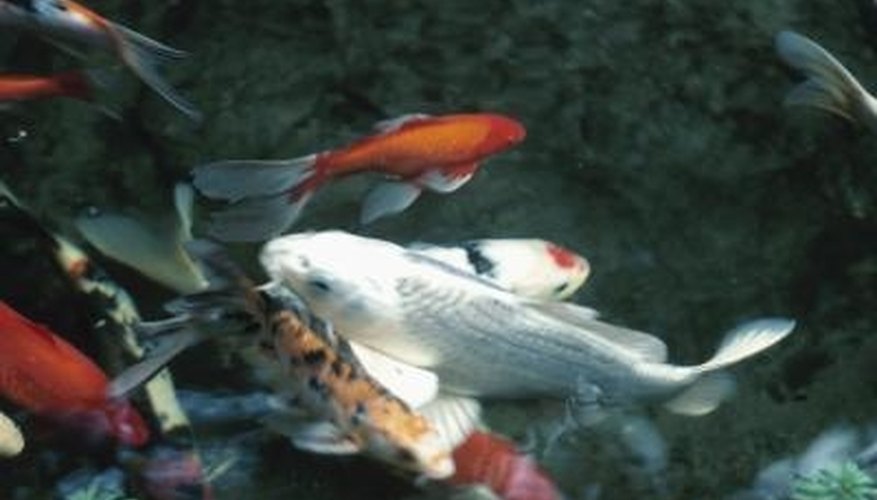 Koi ponds are an attractive and entertaining outdoor feature that will really make your garden special. They can be constructed using concrete and are easy to form and mold into the shape that best suits your landscaping. Poorly constructed concrete may crack or leach alkalies into the water that will be harmful to your koi. It's best to seal your concrete koi pond to ensure that it lasts long and doesn't leave your fish sitting high and dry.
Seal your concrete koi pond by rendering the walls with a special rendering mixture. The mixture is a combination of one part cement with two parts soft sand. Add 1/2 kilogram of plastic reinforcing fibers to each mixture to make the pond resistant to cracking and leaks. Using a steel float, apply the rendering mixture in one coat. Allow the mixture 24 hours to cure before painting. The mixture will cure to a light gray color.
Alternatively, use a sealer to prevent water from leaking out of your concrete koi pond. Pond Armor epoxy shield will seal your pond in three easy steps: (1) Mix the epoxy sealer well and pour it into the pond, then (2) use a squeegee to spread the sealer evenly over the pond; finally, (3) go over the sealer with a paint roller to ensure that it is evenly spread. It should be about 10 millimeters thick. Allow it to cure for an hour. Once the sealer has dried, touch up any patches that are too thick.
As another alternative, waterproof your koi pond using a cement sealer. Thoroseal is a powdered cement sealer that is mixed with water and applied with a coarse bristled brush. Thoroseal forms a complete seal by actually becoming part of the masonry.