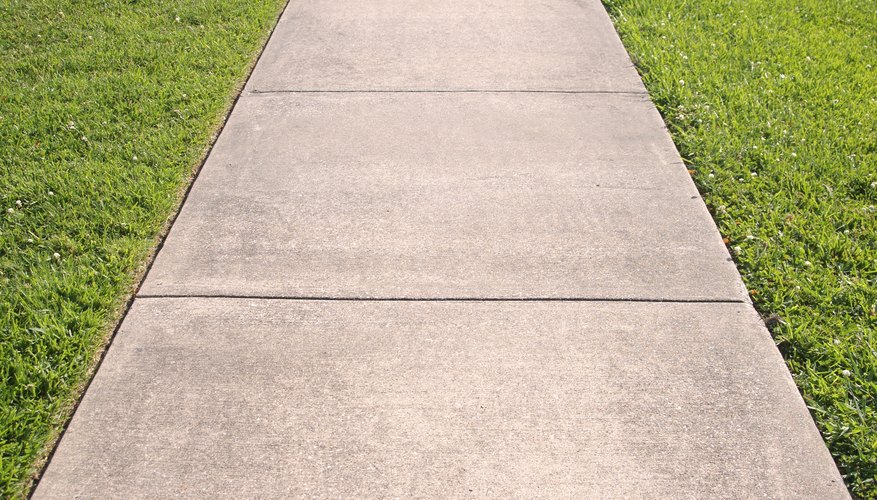 Mowing your lawn regularly can help keep it looking healthy and neat, but a lawn mower cannot cut precisely along edges of the lawn, such as the seam between grass and a sidewalk. Use tools specifically for edging to get a polished, exact edge along the sidewalk. Whether you decide to use a hand-operated tool or a power edger, it takes just a little patience to create a sharp edge that keeps grass and other plants from growing over sidewalk.
Get the Order Right
Performing lawn maintenance steps in the right order is key if you want a healthy-looking yard. You might assume that you should mow the lawn first, but there are actually benefits to edging along the sidewalk before cutting the grass. That is because when you edge, you loosen dirt, roots and lawn clippings as you create a sharp line along the sidewalk. These organic materials contain nutrients that are beneficial for the lawn, and when you mow, the mower picks up the organic materials and mulches them into the lawn, feeding the grass for its better growth.
Edge by Hand
Several hand-operated tools can help you create a sharp edge between sidewalk and lawn or a garden bed. A basic garden spade with a long handle can work for sidewalk edging; just line up the end of its blade with the edge of the sidewalk, and step on the blade's top to dig out the sod that you want to remove. A half-moon edger is used in the same way as a garden spade, but the curved blade at the end of its long handle is designed specifically for edging, and so the edges it makes are usually crisper and sharper than those made by a garden spade. Using either tool to edge a sidewalk, though, can require significant effort. For quicker edging by hand, opt for a wheel or rotary edger. That tool features a cutting blade on a wheel at the end of a long handle. The wheel allows you to work more quickly along the sidewalk than you can with a garden spade or half-moon edger.
Edge with Power
The fastest, easiest tool for edging a sidewalk along grass or a garden bed is a power edger. Electric- and gasoline-powered models are available. Electric edgers are usually easier to start than gas-powered options. A cordless electric edger must have its battery charged regularly and is an option for edging a small sidewalk. A corded electric model can edge long stretches of sidewalk, but the tool must be connected to an extension cord to make it usable long distances from an electrical outlet. A gas-powered edger is an effective option for prolonged use on sidewalks around large lawns. Some gas models have a built-in electric starter that makes it simple to get the tools running, and others with a pull-start mechanism are usually more difficult to start. With both electric and gas edgers, you simply push the tools along the edge of the lawn beside the sidewalk, and the tools' wheels move them along. An edger's blade, cutting wheel or monofilament line cuts the grass, creating a sharp edge.
Take Safety Precautions
Using a power edger to edge a sidewalk can be simple, but it requires some care. Concrete is easily damaged by the speedy movement of the tool's blade, which can cause chips and cracks. Also, striking sidewalk can dull the edger's blade. So minimize contact between the concrete and edger's blade. Opt for a power edger with a guide attachment that flip downs to help keep the blade from contacting the sidewalk. Ensure that your power edger's blade is sharp before use, too. A sharp blade helps create a sharp edge while a dull blade can split grass blades along the edge, making the grass vulnerable to disease. Also, a power edger can throw debris as it moves along sidewalk. So clear the area of children and pets before you start edging, and ensure the edger's safety guard is in place before turning on the edger.