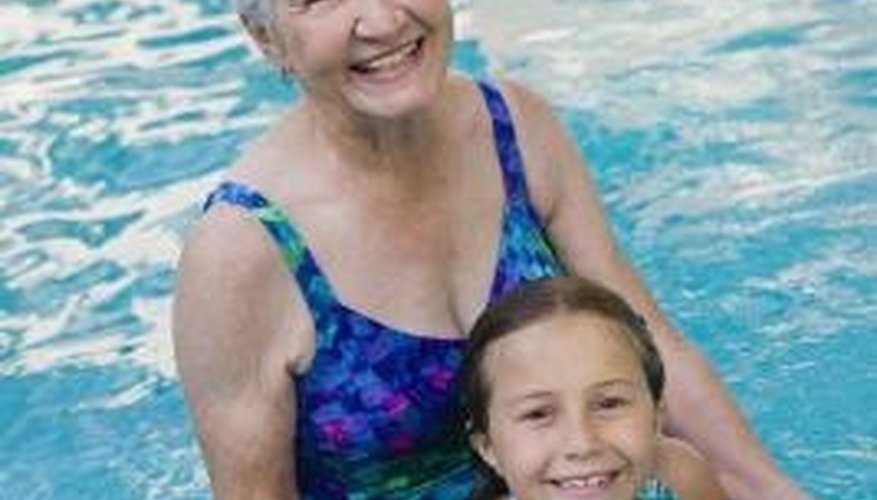 Wedding cake steps are intended for use in above-ground pools. These steps make for easier and safer entrance into the pool, allowing users to step slowly and safely in to the pool rather than sliding or jumping into the pool. The steps also offer a place for swimmers to sit while in the water. The steps can only be used in an above-ground pool that is enclosed by a deck. With a little patience your installation will be complete in no time.
Identify the three reinforcement pieces, which are included in any purchased wedding cake step packages. Secure these to the steps. Attach foam pads under each piece; fill with pea gravel. Close with plastic caps to keep the gravel inside.
Lay out each step, affixing the reinforcement pieces to the steps with appropriate bolts and nuts. Install the support tubes to the top of the wedding cake step unit.
Put the step on its flat side. Insert the long support tube into designated slot on the bottom of the step. Turn the step over, and insert the shorter support tube in the top of the step.
Attach the ramp piece to the top of both support tubes. There should be one per support tube. Use 3/4 inch screws to attach the ramp.
Lower the step into the pool. Allow all air bubbles to escape. Then push it against the pool wall. Check to make sure it lays flat against the ground.
Fix the braces (separate from the step unit) to the deck and to the wedding cake steps. Fill the ballast unit with pea gravel and place on top of the step.
Secure the braces to the deck using 3/4 inch screws and an electric screwdriver.
Insert the additional support tube to the existing support tube of your choice to from a railing for the steps. This support tube should not be attached to the ramp. Attach a cap to this support tube.
Things You Will Need
Scissors

Two-grip wrench, 7/16

150 lbs. of pea gravel

Set of wedding cake steps

Electric screwdriver

Foam pads
References