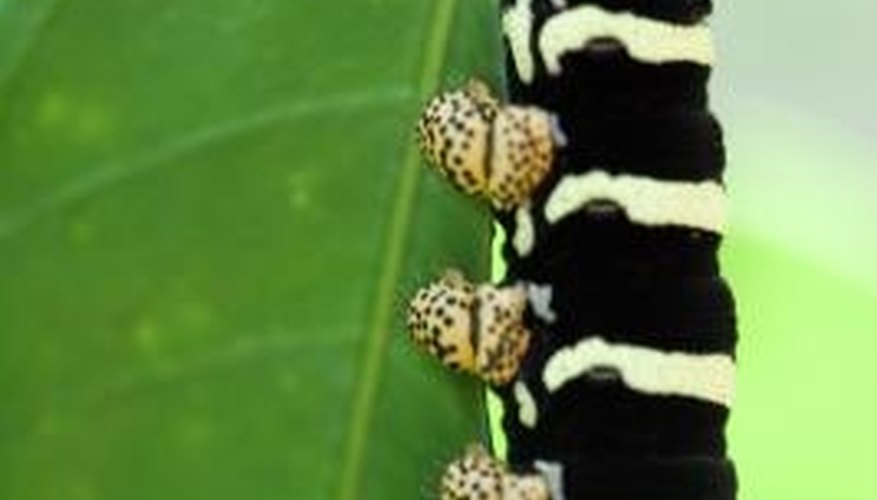 Gardeners the world over share a common problem: how to get rid of pesky bugs that eat their plants. Of course, chemical options that kill bugs are available to gardeners, but they are also detrimental to the environment; and if you are spraying food produce, natural options are preferable. Thankfully a number of ways exist to get rid of plant-munching bugs without resorting to harsh chemicals.
Pepper, Onion and Garlic Spray
Combine a chopped onion, a full head of garlic and a tablespoon of red pepper powder in a large pot of water.
Bring the mixture to a boil and keep boiling for half an hour. Leave the mixture to cool. Transfer the cooled mixture to a plastic container, and store it for three to six weeks in a cool, dark place, stirring every day to ensure the mixture doesn't become anaerobic.
Mix 2 tablespoons of the brewed concoction with water and a tablespoon of soap flakes in a pint-sized spray bottle. Spray onto affected plants. This spray will help with plants being eaten by caterpillars, corn borers or one of the biggest garden pests, aphids.
Diatomaceous Earth
Put on gardening gloves and a dust mask. Ensure it is a sunny, dry day outside when applying diatomaceous earth, as moisture will cause it to be ineffectual. If you need to water your garden, do so a couple of hours before applying the diatomaceous earth so that the surface moisture will have dried.
Sprinkle generous amounts of the diatomaceous earth on and around plants affected by bugs, especially around the stems or trunks. Diatomaceous earth works by cutting the bugs, which then dehydrate and die. It works on ants, caterpillars, roaches, borers and aphids, but won't harm beneficial bugs such as lady beetles or bees; and more importantly, won't harm your family or pets.
Reapply the diatomaceous earth daily for a week to kill off infestations; then weekly to prevent reinfestation.
Soap and Neem Spray
Fill a spray bottle with warm water and add a tablespoon of soap flakes. Shake to dissolve the soap flakes and then wait for the soap bubbles to die down.
Combine 10 drops of neem oil to the soapy water and agitate to mix without bubbling the soap again. The neem will be repugnant to such garden bugs as aphids or whitefly and spider mites, who will leave the sprayed plants alone.
Spray plants daily to keep them pest-free. Place a yellow container with water near the plants to attract aphids that are fleeing the neem oil -- they are attracted to the color yellow, and will drown in the water.