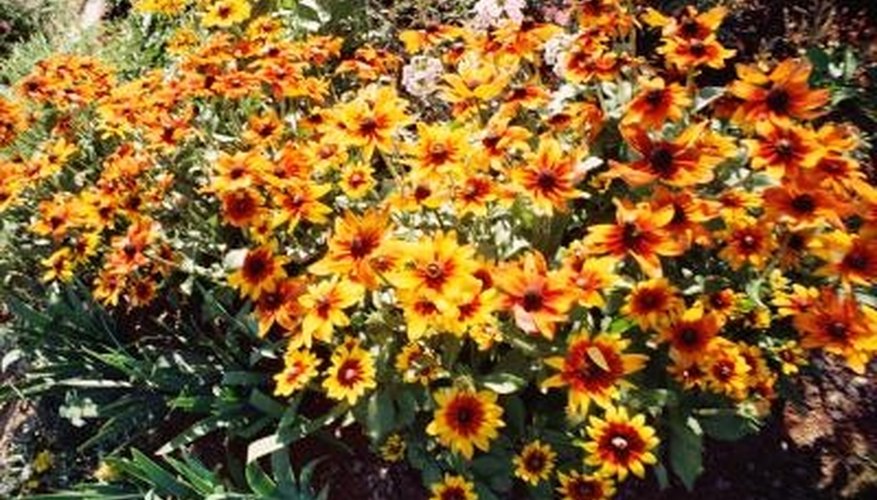 Hardy mums are any variety of chrysanthemum that can endure cooler temperatures and typically blooms from early fall through the first frost. Although hardy mums stop blooming in winter, they are perennial plants that will retain their leaves through the winter in southern climates. Growing hardy mums can be accomplished in containers, as well as in the ground, as long as adequate sunlight and moisture are provided.
Wait until the fall and look for an outdoor location that receives full or partial sun exposure and has moist soil.
Spread a 10-10-10 granular fertilizer over the chosen site at a rate of 2 lbs. for every 100 square feet of space. Mix the fertilizer into the soil well using a pitch fork or garden tiller, if available.
Remove the mums from their pot and loosen the roots gently with your fingers until the soil begins to fall apart. Place the roots of the hardy mums into the center of the soil and fill in the hole. Plant mums 10 to 15 inches apart, since they spread slightly as they age.
Spread a 3- to 4-inch layer of mulch over the soil under the hardy mums to help keep the moisture from evaporating.
Water the mums daily for at least one week after planting to help the root system adjust to the new site. Afterward, water only as needed to keep the soil moist. The leaves of the mum will begin to wilt when it is not getting enough water.
Apply a liquid plant fertilizer to soil under the hardy mums at least once per week from the early spring until the plants stop flowering in the fall.
Wait until the winter when the mums' leaves have turned black from cold temperatures and cut them back to the ground using pruning shears. If desired, you can leave the foliage until spring and cut it back then.