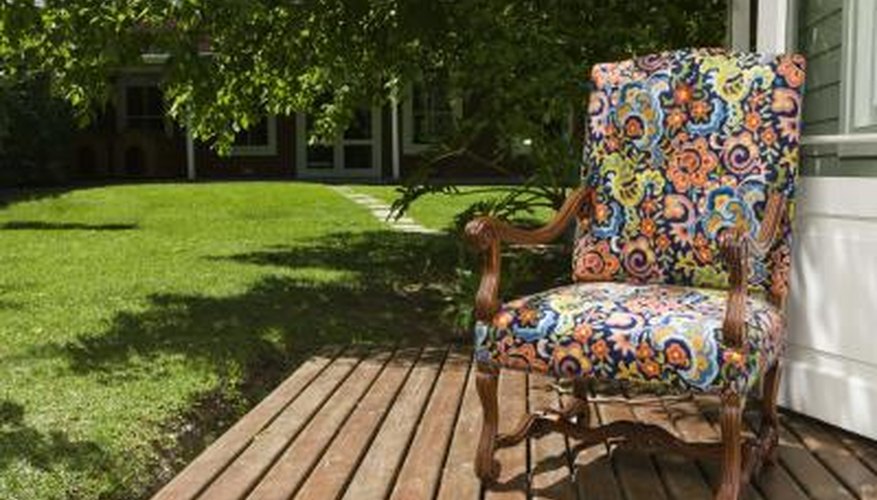 Mole crickets are a species of burrowing cricket that live underground and prey on a variety of organisms in the soil. While mole crickets are not harmful to people or their pets, they are a pest because their burrowing causes damage to the turf and lawn. Mole crickets can be effectively controlled through the use of the commercial pesticide acephate, which is sold in products such as Orthene Turf, Tree and Ornamental Spray. When using pesticides, be sure to read all labels carefully, and follow the instructions.
Step 1
Flush the area of the lawn with dishwashing detergent to verify that mole crickets are present. Mix together two tablespoons of lemon-scented dishwashing detergent and one gallon of water, and pour it onto one or two square feet of lawn. This soapy mixture will drive any mole crickets that are present above ground. It is important to confirm that mole crickets are present, so you can minimize pesticide usage.
Step 2
Flush the area of lawn that you tested with fresh water to minimize damage to the turf.
Step 3
Measure out and mix together six tablespoons of acephate, an insecticide recommended for mole cricket control, with two gallons of water. Acephate is present in commercial insecticides such as Orthene Turf, Tree and Ornamental Spray, and Pinpoint 15G. To avoid injury, wear protective eyewear and gloves when mixing the acephate.
Step 4
Fill the reservoir of the pesticide sprayer with the prepared acephate mixture and spray the pesticide uniformly over the lawn, being careful to direct the spray so that you do not walk through it. Two gallons of prepared acephate mixture will be enough to adequately treat 1,000 square feet. Apply the pesticide late in the day or early evening, to avoid evaporation.
Step 5
Rinse the pesticide sprayer thoroughly inside and out when you have finished applying the pesticide. If you have extra prepared acephate mixture, do not store it--instead, dispose of it at a properly labelled site. Do not dispose of it down the drain.
Step 6
Store excess acephate concentrate in a cool, dry place out of direct sunlight, in the original container.