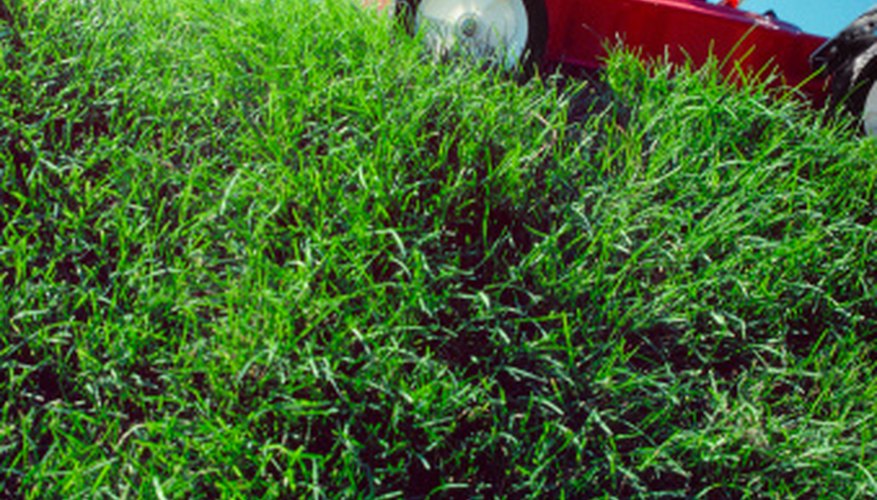 Providing lawn care services for a fee can be a lucrative business. There are several things to consider in setting your rates to be successful. Basic business expenses need to be covered, and you also want to ensure that you're being paid adequately. Lawn service is arduous work. Not only are the machines working hard, but your body is, too. The summer months are tough for lawn care service providers. Be sure to be adequately compensated.
Ideal Estimate
Assess the lawn to be cared for. Most commercial mowers can 2 acres of lawn in one hour. If you have a 2-acre lot to cut, assign your basic hourly rate.
Calculate how much trim work will need to be done with the weed-whacker. If there are several trees and edging, add in the hourly rate.
Offer the customer a basic estimate that you will honor for three visits. After three visits, you will have created a good system and routine for the yard and you'll get a better idea of exactly how long the lawn takes to mow.
Adjust the rate depending on how much more or less time you initially calculated to complete the job.
Machinery Expenses
Calculate the cost of fuel for any gas-powered tools you'll use. You likely know the length of time you can operate your mower, edger or weed-whacker on a single tank of gas.
Locate obstacles in the lawn that you'll need to maneuver around while mowing. A clear tract of land will take considerably less time and fuel to mow than one that is littered with trees, shrubs and corners of edging. If a lawn is difficult to mow, charge more for the services you provide.
Factor in the age and condition of the tools that you use regularly. If you're machinery is in tired condition, you may be facing expenses to repair or replace it.
Cost of Disposal
Find a place where you'll be able to dispose of lawn cuttings or trimmings. Some towns offer free disposal, but many charge a fee.
Calculate the expense to transport the debris to the disposal site. You probably have a truck and trailer to carry your equipment. You should be able to use the truck bed to haul the debris.
Charge your customers with large volumes of debris proportionately. Clients with minimal debris shouldn't be charged the same amount.
Offer a discount for not bagging the cuttings. Most large commercial mowers cut the grass fine enough to eliminate the need for bagging.
Traveling and Scheduling
Determine the length of time it will take you to travel, as well as the distance traveled, to each customer. If you travel 15 miles each way to service a client and your vehicle operates on 10 miles per gallon, you will consume three gallons of gas. Figure this expense into what you're charging the client.
Schedule customers according to location. Scheduling ones in the same neighborhood on the same days will minimize your travel expense.
Offer a discount to customers who request services more frequently or request multiple services.
Competitors
Get to know the competition. Large lawn service companies advertise on the Internet and offer free estimates. Have them come to your place of residence and talk rates with them. This will give you a basis for comparison.
Find out what other lawn services are charging their clients in the area. Base your rates on this if possible. You don't want to price yourself out of the market by being too expensive.
Offer to match or beat a potential customer's lawn service provider. Find out what the person has paid in the past or what a neighbor might be paying. Stay in that range of pricing for your best hopes of gaining a new customer.
References