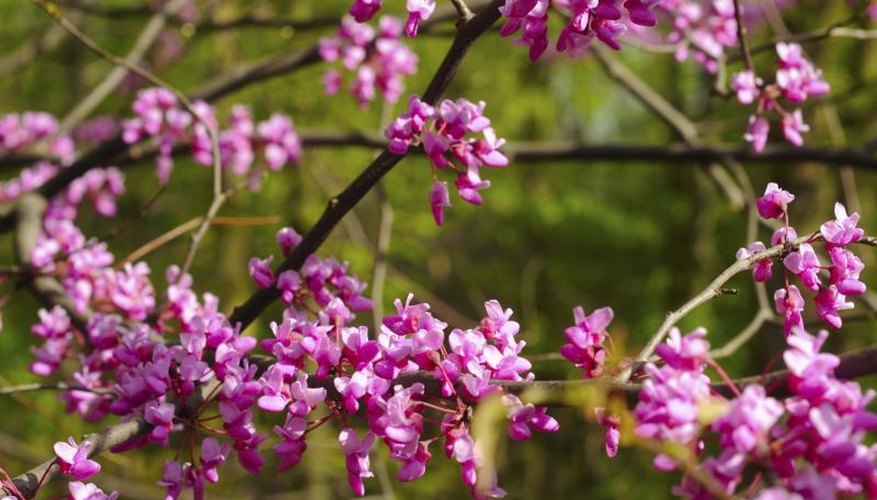 Eastern redbuds (Cercis canadensis) decorate landscapes and wild areas throughout U.S. Department of Agriculture plant hardiness zones 4 through 9. Their tell-tale magenta buds open into purple-pink flowers in early spring before the trees leaf out. Although short-lived, redbuds make ideal selections for home landscapes due to their moderate size and ease of maintenance. With numerous cultivars available, you can plant a redbud that suits your needs and desires.
General Information
The eastern redbud typically grows to 20 or 25 feet tall, although some wild specimens can reach slightly taller with age. Redbuds planted in full sun most often display a rounded and compact habit, while those planted in partial shade often have looser and more open forms. Cultivars vary greatly, with white, pink or darker flowers, weeping or upright habits, and several different foliage selections. These short-lived trees tend to decline after 20 or so years.
Site Requirements
In the wild, redbuds grow along the edges of woodlands in partial shade or filtered sunlight. They thrive under the canopy of the taller woodland trees, reaching out into the sun with their bud-covered branches. In the home landscape, redbuds will thrive in either full sun or partial shade locations. Moist, fertile soil is the best option for these native trees.
Redbuds develop a taproot that most often grows vertically and surface roots that spread horizontally. Surface roots can spread as far as the canopy, but are typically noninvasive to foundations and sidewalks. However, a good rule of thumb is to plant at least 10 feet from your home. Smaller varieties, such as Lavender Twist (Cercis canadensis "Covey," USDA zones 5 through 9) which grows to only 10 feet tall and wide, have smaller root systems and can grow closer to the home.
Planting Guidelines
Redbuds do not transplant well and, as such, require planting when very young for the best chance at survival. Plant in spring or fall: in spring, plant after the danger of frost; in fall, plant at least 1 month before frost to ensure your young tree has enough time to establish.
When you've chosen your redbud from nursery stock, dig a hole as deep as the root ball -- the surface of the root system and ball should be even with the top of the hole -- and approximately twice as wide. The roots aren't particularly sensitive, but use your fingers to gently clear as much soil away from the root ball as possible and separate roots before placing in the planting hole.
Because redbuds are tolerant of so many different soils, there is no need to amend most soils. However, if your soil is too clayey or too sandy, mix approximately 4 inches of compost to a depth of 8 to 10 inches -- or more -- into the soil.
Watering Needs
Like most trees, water newly planted redbuds regularly with a slow drip from a hose for about 20 minutes three times per week. The top couple inches of soil should remain moist, but allow the top to dry between waterings. As understory trees, natural-growing redbuds normally have their roots in shadier locations; if you plant in full sun, exercise caution to ensure the soil remains moist, especially the first year after planting. Apply 2 to 3 inches of mulch under the redbud and out to the drip line to help regulate soil temperature and moisture, ensuring mulch doesn't touch the trunk.