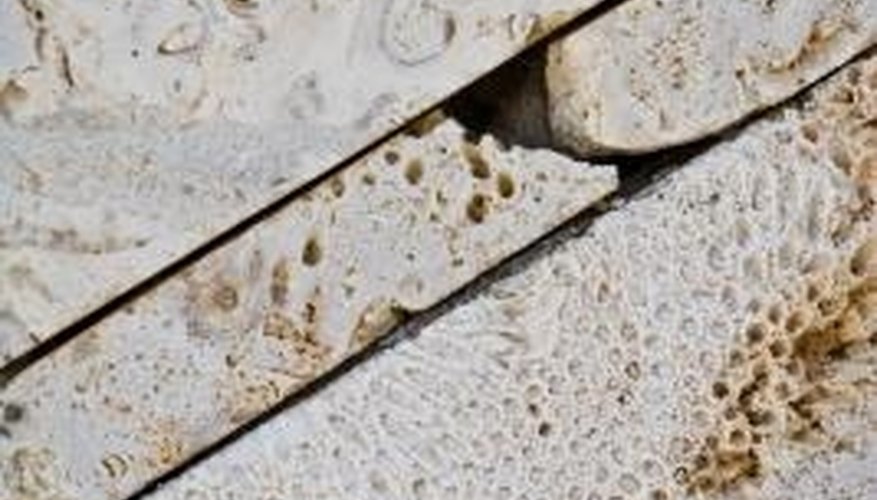 The whiteness of limestone combined with the cobbled look it provides when used as a building material gives limestone constructions an ethereal, timeless quality. As a sedimentary rock, limestone's makeup consists largely of calcite, making the stone highly absorbent. The level of absorbency, in turn, makes limestone prone to staining and water damage. Preserve a limestone wall with a type of sealer that will reach deeply into the pores to protect the stone without taking away from its natural, ashen quality.
Wash the wall, unless newly built. Scrub the walls with a solution of water and biodegradable, non-acidic stone and concrete cleaner and rinse with fresh water. For highly soiled walls, employ a high-pressure washer. Equip the washer with a wider spray nozzle, as more concentrated sprays may damage the surface of the limestone. Allow the wall to fully dry.
Place drop cloths on the ground below the wall and protect any adjacent surfaces from sealer splatters with masking tape and masking paper or plastic.
Apply the first coat of penetrating stone and concrete sealer to the wall, using a pump sprayer with a wide-spray nozzle. The sealer will seal the limestone as well as any mortar joints. Hold the sprayer nozzle at least six inches from the surface of the limestone and spray in long, slightly overlapping rows. The first coat will quickly absorb into the stone. Allow the first coat to dry for the time indicated in the manufacturer's directions.
Spray the wall with a second coat of sealer. Allow the sealer to dry. Test the surface of the limestone to see if it is adequately sealed. Place a few drops of water on the wall. If the water beads, two coats created a sufficient seal. If the water absorbs into the stone, the wall requires additional coats.