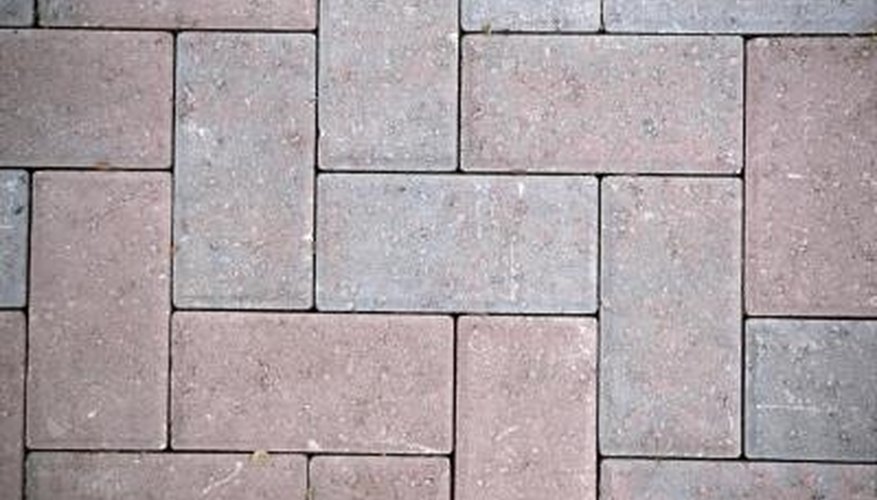 Rows of properly installed brick pavers provide a low-maintenance, durable outdoor surface. After installing pavers atop a base of gravel, you must fill the joints between each one with masonry sand. The sand "joint" helps to secure the pavers. Even so, over time erosion ,may occur. Several steps can be taken during installation to keep the sand in place, helping build a surface that lasts for years.
Add two three-inch thick layers of ¾-inch aggregate into the foundation of your building site. Go over the entire surface with a hand tamper three times, compressing the rocks as much as possible. Tamping the rocks tightly not only facilitates drainage, but helps reduce the amount of sand that that sinks through the gaps.
Arrange edging restraints against the inner walls of the foundation and hammer 12-inch spikes to secure them to the ground. These restraints lock the pavers in place. Limiting the movement of pavers thus limits the amount of sand that is lost. (see ref 1)
Pour 1 1/2 inches of sand bedding atop the aggregate. Level the surface by spreading with a rake.
Set the pavers in the sand according to your pattern. Set them flush against each other to keep the joint lines narrow.
Place a timber board atop each row of set pavers. Tap the board with a rubber mallet to apply even pressure to all of the pavers, embedding them in the sand bedding.
Spread fine sand over the surface, once all of the pavers are set. Sweep downward with a stiff shop broom to compact the sand into the crevices. Continue adding and packing sand until all of the joints and full.
Seal the pavers with sealant using a roller brush or spray pump. In addition to protecting the pavers from weather, the sealant forms a barrier over the sand joints.
Assess the paver surface every season and refill the sand joints as necessary. Apply sealant again every other year for best results.