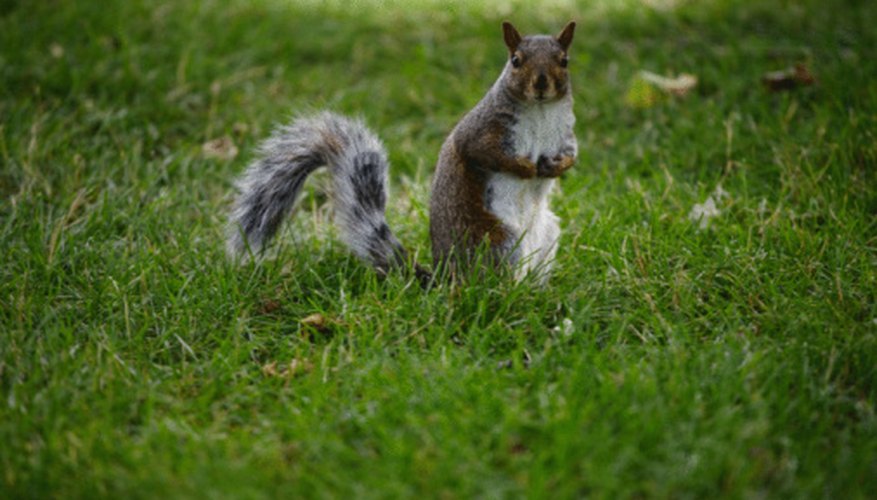 Ground squirrels can be real a challenge. Between chewing on your lawn furniture, eating your garden vegetables and knocking down planters and bird feeders, they are one critter most homeowners can do without. Unfortunately, the typical methods of animal sprays and traps are not usually effective with them. Instead, some slightly more creative and natural methods must be used to assuage ground squirrels away from your yard and garden.
Prevent squirrels from breaking into your bird feeders by eliminating the dropped seed. Add a tray to the bottom of the bird feeder, so that any seed the birds drop while eating is caught by the tray. Then, buy shell-free bird food, so that birds aren't constantly dropping empty shells. This eliminates any signs on the ground that a bird feeder is hanging overhead.
Remove piles of rocks, wood or debris from your yard. These are ideal habitats for squirrels, so by getting rid of their homes, you get rid of the squirrels.
Irrigate any holes that you find in your yard and force the squirrels to move.
Plant a sacrificial garden close to your home's boundaries, but far away from your real garden. Make the decoy garden easy to get to and full of appealing foods for the squirrels. For an extra means of keeping them in this garden and out of yours, sprinkle some cracked corn on the ground.
Spray your garden plants with repellent sprays containing capsaicin. The juice from this hot pepper spray will burn the squirrel's mouth, face and paws, making your plants less attractive.