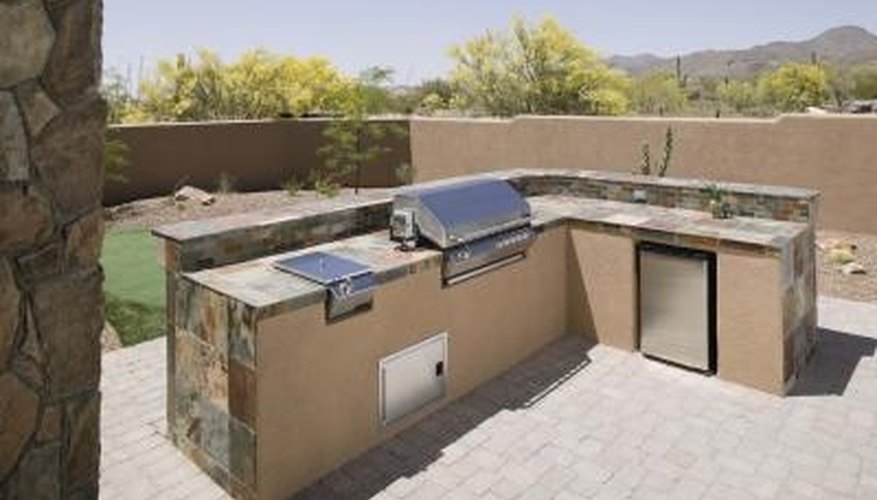 Travertine pavers are an ideal material for patios and pool areas because they stay cool on hot days. Cut from natural stone, travertine has a low-erosion surface that can last for many years. Installing travertine pavers is a simple process when you set them over sand. While you can walk on the completed surface right away, plan several days for the construction as building a strong foundation for the pavers takes time and labor.
Trace the borders of your intended travertine surface with landscape paint, adding an extra inch to each side for the edge restraints.
Excavate the area within the borders to 8 inches deep and level. Use a shovel to dig a slight slope into the expanse that measures an inch deeper for every 4 feet away from the house to direct excess water from the home.
Tamp down the bottom of the foundation with a vibrating compactor machine, overlapping rows to prevent the ground from shifting.
Dump 4 inches of aggregate into the foundation. Tamp the entire area to pack the rocks tightly together. The aggregate provides a solid base for the travertine pavers while improving drainage by enabling moisture to pass through.
Fasten edge restraints along the interior sides of the foundation. Use metal or wood for a rectangular surface and plastic or other flexible material for curved surfaces.
Use a hammer to sink 12-inch spikes through the edging into the ground.
Pour 2 inches of course sand bedding over the aggregate and move a 2-by-4 board over the top to level it.
Set the first row or section of travertine pavers in the sand so they are butted against each other. Lay a board over the pavers and tap the board with a mallet to apply equal pressure to the surface and embed the pavers in the sand. Check that the travertine surface is level with a bubble level before moving on to the next section.
Fill the crevices between the pavers with fine-grained sand by sweeping it between the joints. Continue adding and compacting the sand until the spaces are filled. Moisten the sand to pack it down tighter and then add another layer into the joints.
Seal the travertines with a natural stone sealant to fill the porous surface and protect it from water and other weather damage.