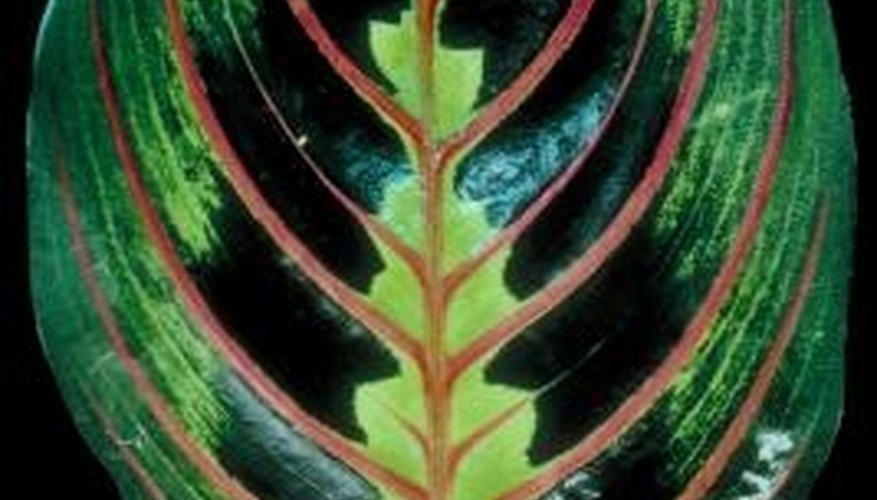 Maranta plants, commonly referred to as prayer plants, are prized as "one of the most striking houseplants," according to the Texas AgriLife Extension Service. The two cultivars known to the United States are Maranta leuconeura `Kerchoviana', a green plant, and M. leuconeura 'Erythroneura', a red-veined, light green to dark green plant. As the name suggests, the leaves of the prayer plant fold inward after the sun goes down as though the plant is praying. Pay attention to the variety of its easy-to-manage needs and the maranta plant will be a healthy indoor interest well-suited for sitting or in hanging pots.
Grow maranta plants in aerated, moist, well-drained potting soil. Maintain a pH soil level of 5.5 to 6.0 for best development.
Place maranta plants in light shade, and avoid full direct sunlight that can cause injury such as leaf bleaching. Grow in a light-level range of 1,000 to 2,500 foot-candles in a greenhouse setting.
Irrigate your maranta plant to keep soil moist. Avoid waterlogged conditions as well as overhead irrigation that encourage the development of fungal infections.
Maintain indoor temperatures between 60 and 90 degrees Fahrenheit to protect your plants from damage. For best growth, aim for a range of 70 to 80 degrees, according to the University of Florida.
Fertilize maranta plants once every two weeks from May to September. Apply a 3-1-2 fertilizer to balance out essential plant nutrients such as nitrogen. Apply at the rate suggested on the product's label.
Examine your maranta plants regularly for pest and disease problems. Search for problems such as mites that result in diminished health, or spots that appear saturated with water that can lead to the death of your plant. Look for any other abnormalities such as stunted growth or yellowing attributed to other potential pests. Control pest problems immediately by releasing natural enemies such as minute pirate bugs for mites, or by applying the appropriate chemical insecticide.
Search for signs of disease, looking for Helminthosporium leaf spot, a common problem on marantas. Examine your plants for tiny spots that look watery and turn yellow and die. Control this problem by watering the soil directly and maintaining dry leaf surfaces.