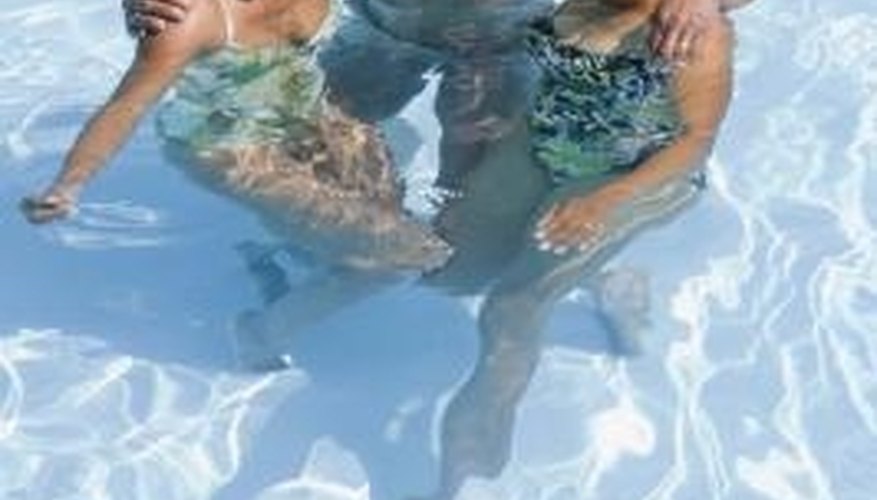 Whether you had a professional install your new pool or you are doing it yourself, you can save money by installing the expandable pool liner with the help of a friend. Expandable liners fit pools up to 72 inches deep. The vinyl stretches as the water fills the pool, creating a tightly sealed layer between the water and pool wall. The trick is to keep the liner as smooth as possible, to avoid unsightly wrinkles.
Unpack the liner from the box. Unfold it and spread it out in the sun. Examine the entire liner, as well as the seams, for holes.
Place the liner on the edge of the pool. Unroll it so the plug is facing upward. It should be closed.
Rest the seam of the liner at the circumference on the cove. Place the wall of the liner over the top rails. Tie a piece of rope around the entire circumference of the pool, securing the liner. Leave 18 inches of the liner hanging over the edge.
Turn on the hose. Fill the pool, smoothing away the wrinkles in the pool liner with a straight board as the water pours in. While some wrinkling is expected with expandable liners, all efforts should be made to make the liner as smooth as possible. Release the liner sidewall as water causes the liner to settle into place.
Remove the top rails when the water is higher than the cove. The cove is a wedge of foam or sand that offers protection between the liner and pool frame while also preventing the liner from slipping under the wall of the pool.
Secure the liner to the top edge of the metal pool wall with blue coping. Cut the coping to length if necessary. Smooth out the remaining wrinkles.
Warnings
The pool frame and metal wall should be installed before you put in an expandable liner.

Care has to be taken to ensure the liner is not damaged during installation.