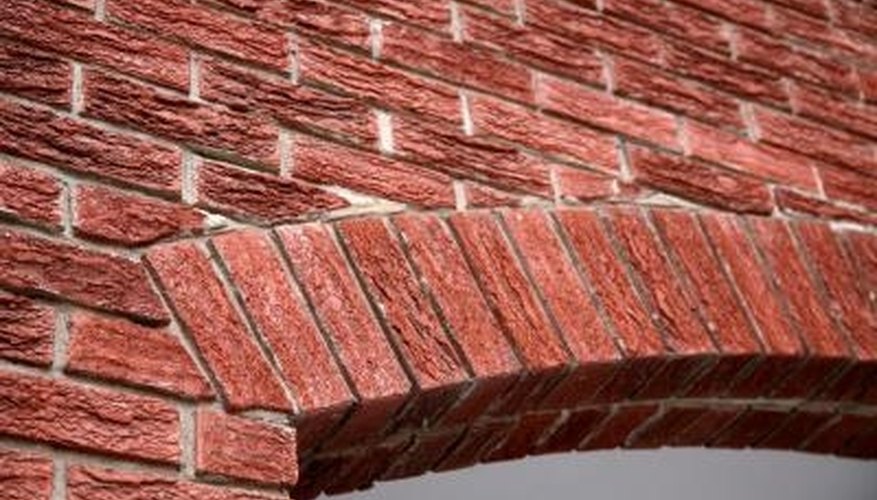 Building any structure with bricks requires a strong mortar to hold the structure together. Making this mortar only requires the combination of four materials: Portland cement, lime, masonry sand and water. Though the number of items needed is small, it's the combination ratio of the materials, as well as the mixing process that creates a mortar that's strong enough for use. If proper amounts and procedures aren't used, you'll have a structure that's rife with problems, ranging from brittle crumbling mortar to loose and missing bricks. However, measured and mixed properly, you'll have a mortar that's capable of holding your bricks in place for decades.
Combine the dry ingredients of your mortar in a wheelbarrow in ratios based on intended usage. Combine one part Portland cement with one part lime and six parts sand for interior or exterior wall use. Combine one part Portland cement with one-half parts lime and four and a half parts sand for use with paving bricks.
Mix the cement, lime and sand in the wheelbarrow using a hoe. Push the materials in the wheelbarrow back and forth from the front to the rear while simultaneously lifting material from the bottom of the dry pile to the top. Continue until the materials are indistinguishable from one another. Make a small hole in the center of the mix when finished.
Add water to the mix by pouring it into the hole in the center and then pushing the material back and forth as you did with the dry ingredients alone. Use about 2 gallons of water for each bag of Portland cement used, adding the water a gallon at a time until you have the consistency of peanut butter. Keep track of the precise amount of water added so that you can recreate the mix should you run out of material before completing the mortaring job.