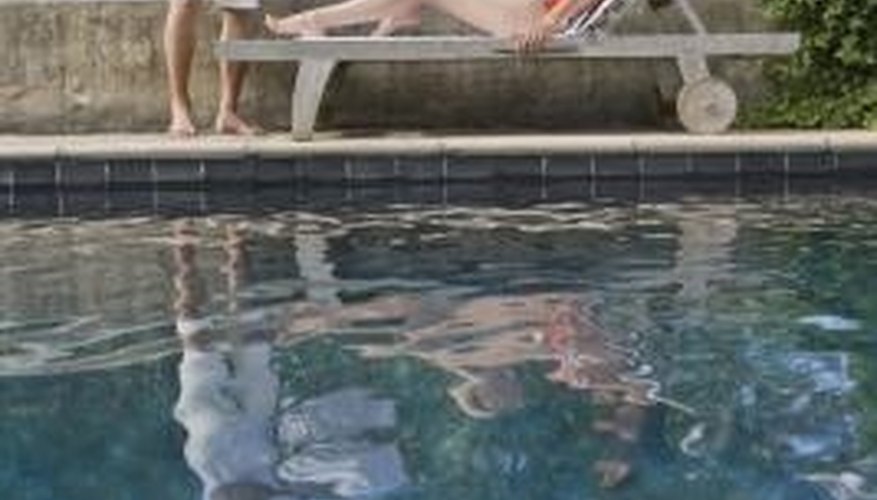 Pool skimmer kits come with a sealing liner to be placed between the unit and the wall of the pool. This keeps leaks to a minimum and forms a water-tight seal around the hole in the pool wall. Sealing the joints between the unit and pool is essential, because skimmers can leak.
Hold the main part of the skimmer (gasket) up to the pool wall and trace around it with permanent marker. If a template came with the skimmer kit, use that to create an outline of the needed hole. Mark the screw holes, as well. Cut along the outline with a razor or knife, getting through both the liner and the pool wall. Remove the piece.
Drill holes for the screws that will secure the skimmer, using the marks you made in Step 1. Fit the skimmer into the hole from the outer pool wall, checking the size. If it doesn't fit quite right, trim a small amount from the hole until it does.
Remove the skimmer from the outer pool wall. Affix the rubber seal (which is square or rectangle in shape with screw holes matching those you made in the pool wall) against the opening on the outer pool wall. Hold it in place, then place the skimmer against it. The seal should now be nestled between the pool wall and main skimmer unit.
Line up the screw holes and screws, then tighten the screws. Make sure the screws are tight, or the skimmer may leak.
Place the second rubber seal against the inner pool lining. This piece should be the same size and shape as the skimmer faceplate, which is smaller than the other seal on the main part of the unit. Line the screw holes up with those in the pool liner and wall. Place the skimmer faceplate on top of the seal, so that the seal is between the faceplate and the liner.
Screw the faceplate and seal into place from the inside of the pool. The screws need to go through the plate, seal, pool lining, wall and skimmer. Tighten until secure.