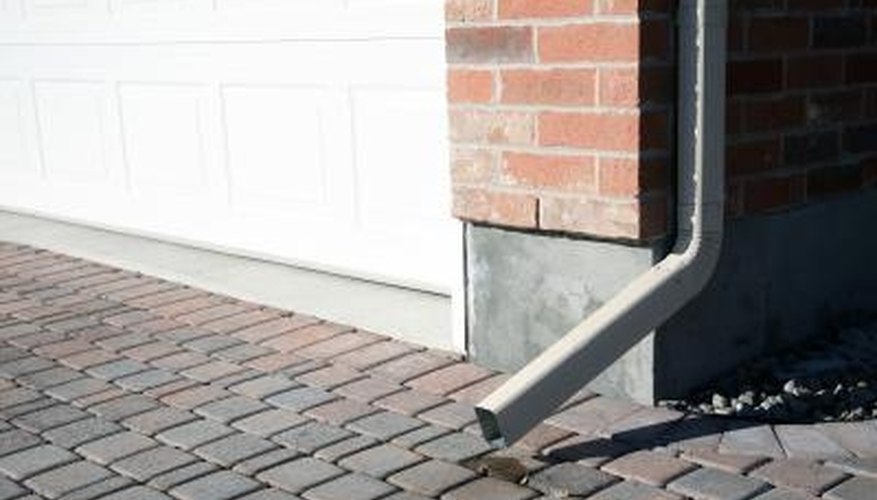 When water can leak into your house through the basement, you could potentially end up with some major structural damage, particularly to the foundation. If you've noticed basement leaks, you should start checking out the possible problem areas and getting them fixed right away. Even a small amount of water can lead to big problems. Waterproofing around the edge of your home will help this issue by preventing water from leaking into the basement.
Inspect the concrete walls of your basement. To waterproof the edge of your house and prevent water leakage into the basement, you will need to fill in any damaged areas with hydraulic cement. Mix a small amount of water with the hydraulic cement until you can pour it. Then apply it to the walls with a trowel. The cement will set quickly and expand to stop water leakage.
Fill in damaged areas of the concrete floor or where the floor meets the wall with hydraulic cement. Pour it right into the hole or crack. Once it sets, the area will be waterproof.
Cover the inside concrete walls of your basement with waterproof masonry. Apply it to the concrete with a standard paintbrush. This seals the pores in the concrete to keep water out of the basement.
Verify that the downspouts are taking water runoff away from your home. If they don't extend far enough away from the home's foundation, you can add flexible extensions to them.
Dig a trench leading from the downspouts away from your home if the land slopes toward your house. Place a PVC pipe inside of the trench and connect the end to the flexible extension you added to the downspout. The pipe should extend out 10 to 20 feet from your house. At the end of the pipe, dig a large hole that can fit a catch basin with several feet around it. Place the catch basin in the hole and connect it to the PVC pipe. Fill the surrounding area with stones. Cover the trench and the hole with dirt. This system will prevent water from flowing toward your home and into the basement.