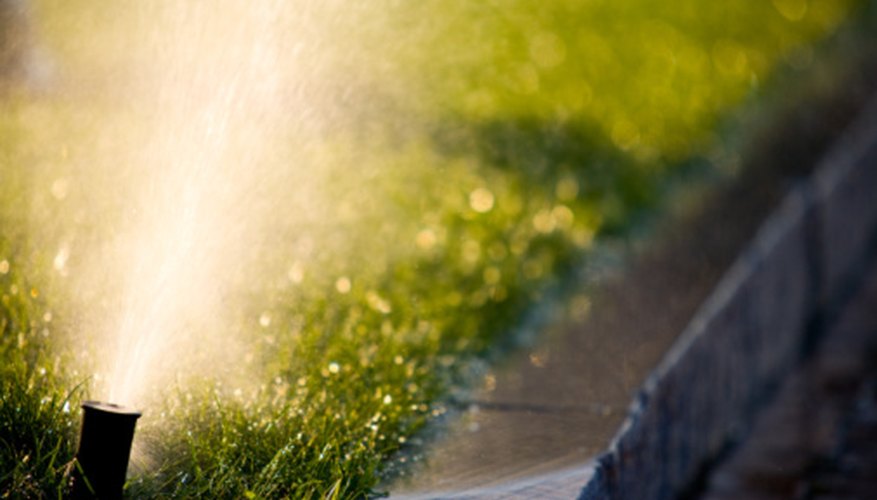 Jupiterimages/Photos.com/Getty Images
Using a sprinkler system to deliver fertilizer directly to plants and grass is one of the easiest ways to ensure that important nutrients get applied evenly. Delivering a steady, uniform amount of fertilizer through the water supply can help grow stronger roots and lush, green lawns. Building your own in-line fertilizer system is relatively easy, and requires only a few tools. In-line fertilizer systems can be used on lawns of any size, and can be added to existing sprinkler lines.
Locate the sprinkler manifold. This is usually outside and contained in a green and black box.
Open the sprinkler manifold box using your hand.
Twist the test caps on each valve within the sprinkler manifold to determine which zone you want the automatic fertilizer to be attached to.
Turn off the main water valve.
Use a wrench to remove the supply line from where it attaches to the valve where the in-line fertilizer is to be attached.
Connect the end of the supply line to the output side of the automatic fertilizer device.
Screw the intake side of the automatic fertilizer device onto the sprinkler valve.
Fill the automatic fertilizer with a quality fertilizer that's designed for use in your model.
Turn on the main water line.
Run the sprinklers and test for leaks.
Things You Will Need
Automatic fertilizer attachment

Fertilizer

Wrench