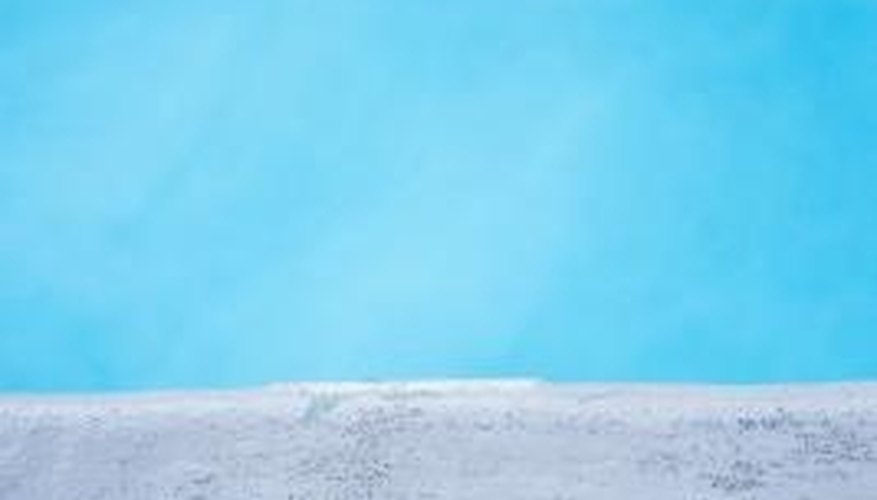 Your in-ground concrete swimming pool may develop cracks if you live in an area where the ground freezes and thaws during the winter. While larger cracks in the base or walls of the pool require professional help, small- to medium-sized cracks are easy to repair with the right tools. Repair the crack or leak in your concrete pool immediately to prevent the problem from growing any bigger so you can continue using the pool during the season.
Drain the water in your pool so it lies below the crack you need to repair. You do not need to drain the water if the leak is near the rim or pool coping.
Cut the crack using a saw with a diamond blade or a 4-inch grinder to make it slightly bigger. Extend the crack 1/2-inch deeper than 1-inch longer at each end.
Brush and wipe loose concrete particles and debris from inside and around the extended crack. Leave it to dry.
Spread a bead of silicone caulking into the crack using a caulking gun. Apply the caulk along the entire length of the crack, up to 1/4-inch below the edge. The caulking provides a waterproof barrier to the pool's substrata. Leave the caulk to dry.
Prepare pool patch according to manufacturer's directions. Depending on personal preference, use pebble or plaster repair patch or mix equal parts sand and cement with cement bonding agent and water until the consistency of peanut butter. Mix just enough to use for the repair, to avoid waste.
Wipe the crack with a wet cloth to moisten it lightly. Spread an even layer of pool repair patch over the crack with a trowel or putty knife. Carefully push it inside the crack with the tip of the knife and press it down with your fingers to remove trapped air bubbles.
Smooth the patch around the crack with a trowel. Tamp a moist sponge over the patch around the crack so it has the same consistency as the surrounding surface. Leave the patch in and around the crack to dry thoroughly. Refill the pool with water when the repair patch is completely dry.