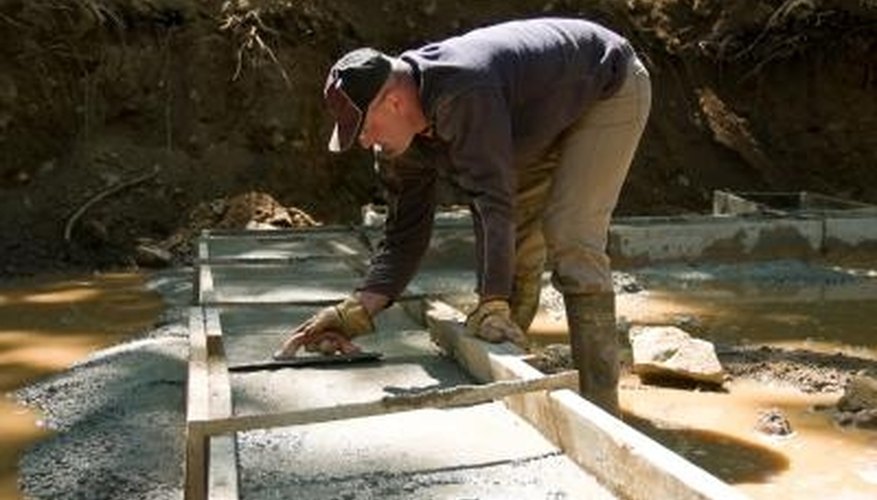 Strong and long lasting, concrete slabs can support a building, driveway, sidewalk or patio. Concrete is more affordable than stones and bricks, resists natural elements and it's easy to maintain. Installing a concrete slab is not complicated or difficult, but the larger the slab you plan to pour, the more effort required to manipulate the material before it hardens. If you're installing a slab larger than 10 x10 feet, ask for help to ensure the result is smooth and level.
Excavate the site where the slab will go to a depth of 6 to 10 inches, depending on the purpose of the slab. For heavy use, like a driveway or building foundation, you'll need a thick gravel bed and a thicker layer of concrete than for a patio or walkway. Add an additional 4 inches of width to each side of the expanse for the wooden forms.
Arrange 2 x10-inch boards on their sides around the interior walls of the expanse. Attach the boards with four 2-½ inch screws in each corner. Use a hammer to drive 1 x 3-inch stakes into the earth every 4 feet along the exterior of boards to brace the form.
Pour 4 inches of 3/4-inch highway gravel into the site and pound a tamper over the entire surface three times. Highway gravel has irregular shapes that wedge together when tamped, providing a strong base that facilitates drainage and prevents frost damage.
Place wire mesh over the surface of the highway gravel. If your slab is for heavy use, lay rebar near the outsides and across the center of the site. Use rebar chairs to raise the rebar so it reinforces the concrete from the center.
Add water and concrete mix to the concrete mixer or wheelbarrow. Mix until the batter is thick and shiny.
Pour the concrete over the expanse from one end to the other until it fills the form, using a shovel or rake to spread it evenly. Once the pouring is complete, drag a clean straight-edge across the surface, pushing forward and back to make the surface smooth.
Wait one week before using the concrete. Cover it with damp canvas, burlap or straw and keep this material moist to cure the slab slowly.