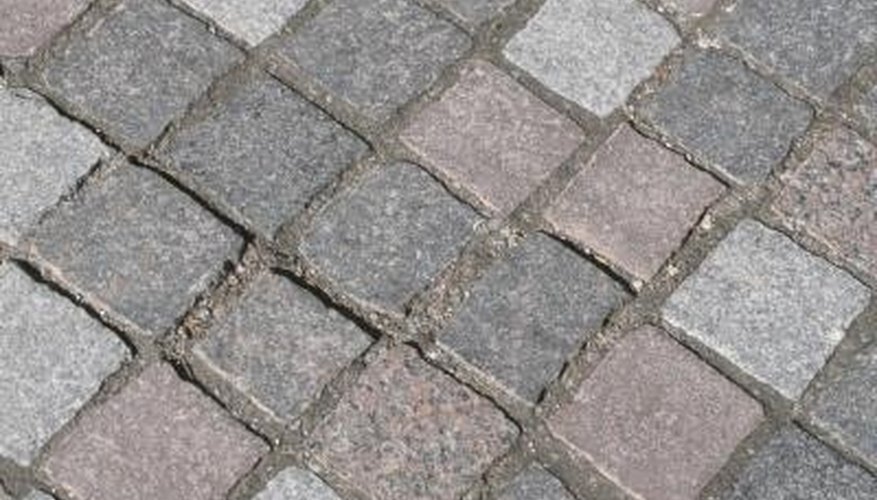 Laying stone over concrete to create a walkway or patio will ensure many years of service. Although concrete is not necessary for a walkway or patio, it will add an extra layer of firm substrate, giving the stones additional strength. The key to properly laying stone over concrete is installing wire mesh to provide a bond between the two elements. For the best results when completing this project, use relatively flat stones, such as slate tiles, rather than largely rounded stones.
Lay 2 1/2-inch galvanized wire mesh over the existing concrete surface to act as a bonding material between the concrete and the stone. Secure the wire mesh to the concrete with ¾-inch concrete fasteners.
Combine the mortar with water until it forms a workable paste. Although you should be able to spread it easily, it should not run or drip unnecessarily. Spread a thin coat of the mortar over the wire mesh with a concrete trowel and allow it to set for four to six hours.
Spread the stones out near your work surface and arrange them in the pattern you want. Consider the size, color, shape and thickness of each stone as you decide where you want them to be.
Spread mortar across the back of the stone, approximately 1 inch thick. Place the stone against the wire mesh and wiggle it gently to embed it and form a secure bond. Leave a ¼-inch space all around the stone before applying the next one. Continue in this manner until all the stones are laid over the concrete, keeping the joints between the stones uniform.
Fill in the gaps between the stones with mortar. Fill a grout bag approximately 3/4 full and twist the top to keep the mortar from coming out. Holding the bag just above the spaces, gently squeeze the bag until the joints are filled with mortar, then allow two hours for the mortar to set.
Scrape along the edges of the joints with a metal striking tool to remove excess mortar. Gently pressing the striking tool into the joints to push the mortar down will ensure that there are no air bubbles. Sweep over the stones with a soft broom to smooth the mortar in the joints. Loose pieces of mortar will fall away when you are sweeping. Allow the mortar to cure for eight hours before walking on the stones.