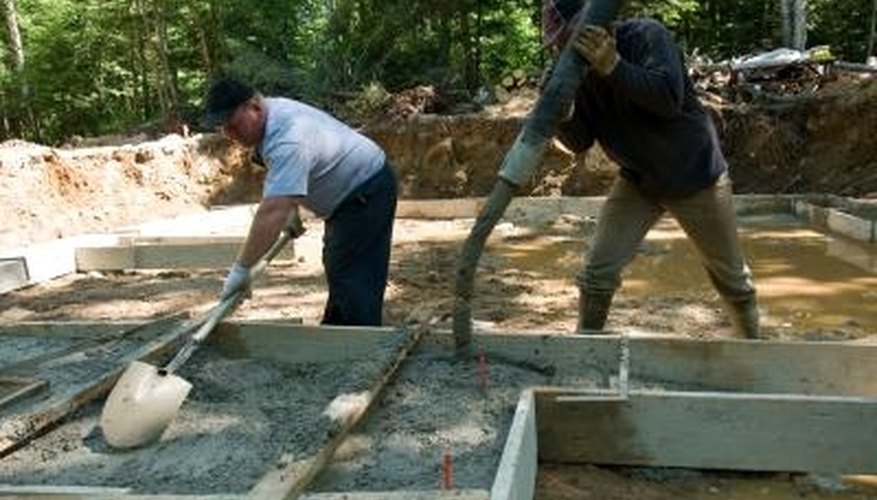 Once you've poured your new concrete patio and finished the concrete surface to your liking, only one step remains before you can enjoy years of outdoor fun: the curing of the concrete. Before the concrete cures to its final hardness, though, you'll want to remove the form that helped to set the shape of your slab. If left in place until the concrete cures completely, the framework of planks and stakes making up your form can become adhered to the concrete, making removal difficult. For this reason it's necessary to remove the forms as soon as the concrete can take the movement.
Wait for the concrete to dry long enough that it can carry its own weight as well as any weight placed onto it before removing the forms. About one day should suffice as drying time.
Place the tip of a shovel below the base of one of your forms, toward the center of the form between two stakes. Apply leverage to the shovel using the handle so that the tip of the shovel begins to move upward, pulling the form upward along with it. Both the form planking as well as the stakes attached to the plank should begin to move upward along the side of the patio, pulling the stakes from the ground in the process. If the planks don't lift, place the shovel tip beneath the stakes and apply the pressure there to lift the form from the concrete.
Move along the form, repeating the levering process until you've pulled the entire form free from the patio slab.
Remove the nails from the stakes connected to the form using a claw hammer to disassemble the form, then remove the planks and stakes from the patio area.
Clean out the trench surrounding the patio where the form stood, removing any debris present. Backfill the trench with soil, filling it to the level of the surrounding landscaping and then tamp the soil compact with a soil tamper to prevent runoff from rainfall before the lawn around your patio can reestablish itself.