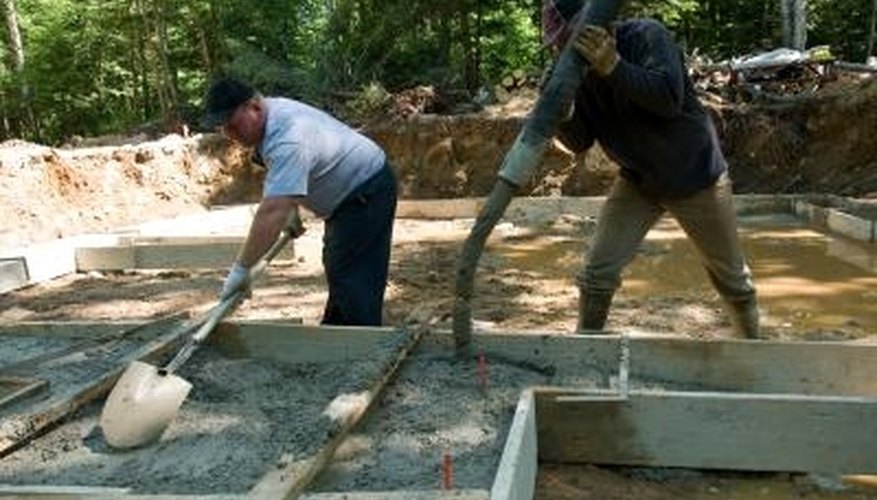 Ideally, concrete should be poured when the weather is cool with a bit of damp in the air to keep the slab from drying out too quickly. With too much heat, the concrete mix transforms too quickly to stone, not having the necessary time to develop maximum strength and possibly growing brittle in the process. Sometimes pouring concrete during hot weather is unavoidable though. When the temperature tops 80 F and you must pour, there are a few precautions you can take to make the pour a successful one, affording your concrete the time it needs to achieve its potential strength.
Mix the concrete on-site if possible, using a concrete mixer large enough to handle the job. By mixing on-site, you can avoid the mix heating up as you transport it from a remote site to your building site.
Mix the concrete using the coldest water available, even using ice water, to keep the concrete mix as cool as possible before and during the pouring process. Cold water also counterbalances the heating up of the concrete mix if you're unable to mix on-site and need to transport the material from the mixing site to the building site.
Spray a mist of cool water over the concrete forms at the pour site to help disperse some of the heat stored up within the forms. Spray the water over the rebar as well, to cool the metal down before pouring. Use only a light spray coating though, to avoid altering the water content of the concrete mix.
Mix and pour the concrete as early in the day or as late in the evening as possible to avoid the warmer midday hours.
Pour the concrete mix from the side of the slab. Find a location to pour where the mix touches as little rebar as possible. Rebar tends to soak up heat as it sits, so hitting as few bars as possible retains the coolness of the concrete while it spreads throughout the form.
Have enough workers on hand to avoid any delays or disruptions in the pouring and finishing process.