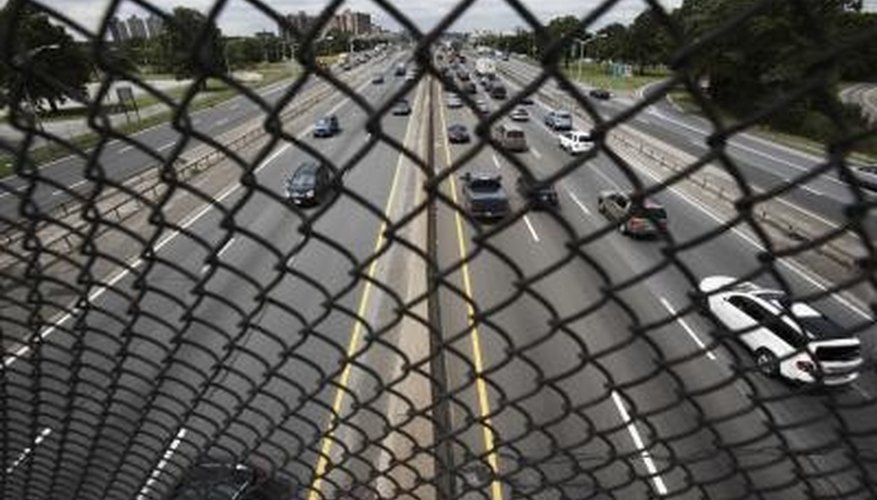 Fences are meant to create a barrier between you and the property next door. If the fence is not properly stabilized and secured, heavy winds may blow it over. Even worse, the fence may heave. Heaving occurs when the ground beneath the fence freezes, causing the fence to rise up out of the ground. The fence will sink once the soil thaws, causing the fence to lean. Properly stabilizing the fence will prevent your fence from falling over.
Heaving Post
Dig up the fence post that is leaning, having a partner hold the fence as you dig. Remove dirt from the leaning side. until you reach the concrete the fence is set in. If there isn't any concrete, you will want to take the post out and stabilize it with concrete.
Push the post into place and begin digging underneath the post, to get the post deeper into the hole. It should be buried between 42 and 48 inches to get it below the frost line.
Fill in dirt around the fence post. Check that the post is level using a spirit level.
Setting Post in Concrete
Dig the hole for the fence post so that it is 42 to 48 inches deep and three times as wide as the post.
Set the post in the middle of the hole. Partially fill around the post with gravel and compact the gravel down with your foot.
Mix together your concrete by putting the concrete powder into a wheelbarrow. Push the powder to one end of the wheel barrow and add water to the other end. Mix together your concrete powder with the water using a shovel. The mixture should be as thick as cake batter.
Fill the hole to the ground level with the concrete. The concrete will shrink down into the hole. Place two wood braces onto the fence post to keep the post from leaning to one side.
Let the concrete cure for the recommended amount of time. Fill the rest of the hole in with dirt.