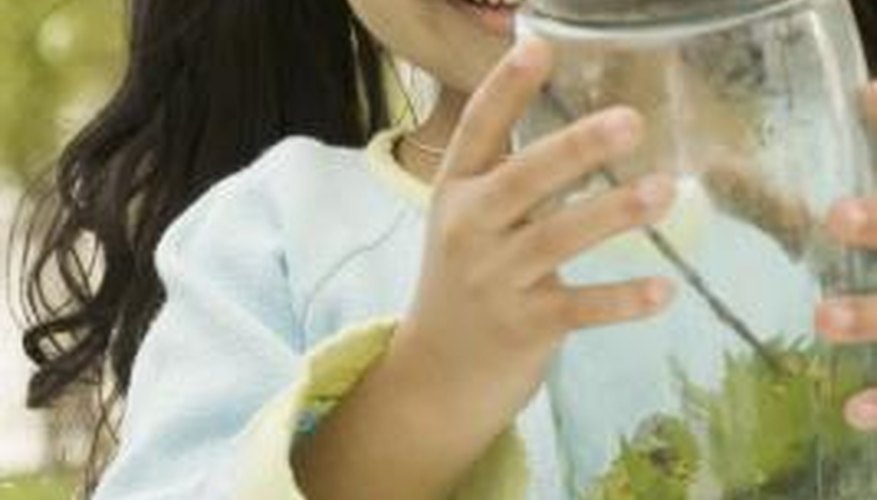 If you enjoy the country charm of Mason jars, you'll love turning them into miniature gardens to display in your home. From tiny succulents to lush, green herbs, these gardens speak to the heart and breathe new life into any room. With a few simple supplies and a few seedlings you will be on your way to creating a unique garden to express your personality and style.
Windowsill Herb Gardens
Windowsill herb gardens are as practical as they are beautiful. When filled with your favorite herbs, these gardens provide you with a never-ending supply of herbs for cooking. To make the herb garden, you will need a collection of quart-size Mason jars. Fill the bottom of the jar with 1 to 2 inches of crushed rock or pebbles to create drainage. Add a layer of charcoal, if you prefer, but it is not necessary if you avoid over-watering your herbs. Fill the container three-fourths full with lightweight potting soil. Tuck your favorite seedlings into the soil and fill in around the roots with soil, positioning the seedlings at the mouth of the jar. Leave 1 inch between the top of the soil and the rim of the jar. Water to keep the soil evenly moist but not soggy. Consider basil (Ocimum basilicum), rosemary (Rosmarinus officinalis) and thyme (Thymus vulgaris) for an attractive arrangement of culinary herbs.
Succulent Gardens
Slow-growing succulents make the ideal plants for Mason jars. Because they come in a variety of shapes and colors, you can tailor the garden to fit nearly any decor. Think prickly cacti and colorful stones to complement a western theme, or go with hen-n-chicks (Sempervivum spp.) if you prefer a more subdued garden. Fill the jar approximately halfway with interesting rocks, twigs or bits of Spanish moss and fill in the cavities with potting mix for succulents. Tuck seedlings into the cavities so the plants remain inside the jar and display it by hanging the jar with jute or wire.
Terrariums
Mini terrariums are ideal for tabletops or to add a little life to your desk. Place a 1-inch layer of small pebbles or crushed rock on the bottom and fill the jar a third of the way with potting soil. Tuck in tiny tropical plants, such as miniature calico plants (Althernanthera spp.), nerve plants (Fittonia spp.) or miniature begonias (Begonia spp.) and mist lightly. Replace the cover. Display terrariums in an area that receives bright, indirect light. These mini terrariums will practically take care of themselves. If the glass becomes clouded, open the top to let moisture escape. Check the soil occasionally and add water if it becomes too dry.
Miniature Fairy Garden
Half-gallon Mason jars make delightful fairy gardens that are sure to please the little ones in your household. Follow the procedure for making the terrarium, but leave room for miniature furniture, colorful trinkets and a miniature fairy, of course. Wrap the rim with mini holiday lights, or punch holes in the cap and tuck the bulbs inside, and place the fairy garden in a dark nook. Turn on the lights to show off this Mason jar garden. Consider a sprinkle of glow-in-the-dark glitter to bring this magical garden to life.