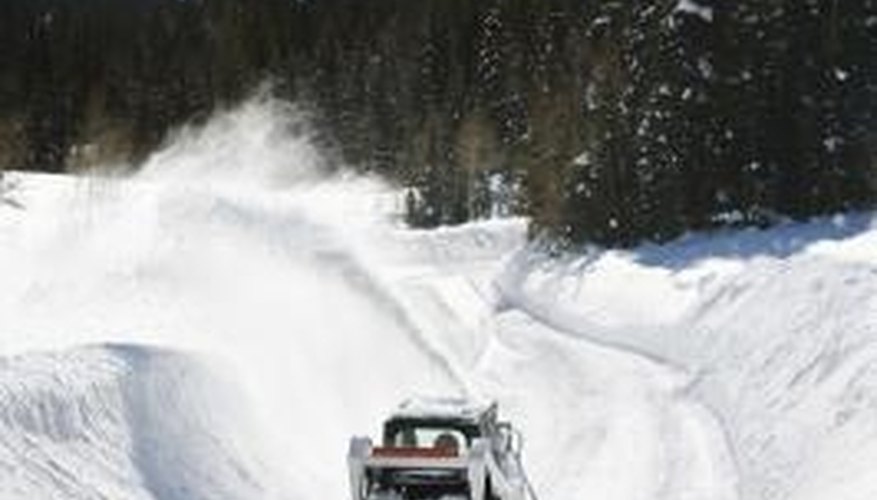 Removing the tracks on a track loader is necessary for most track repairs and for track replacement. Changing the tracks does not require you to disassemble them, and as a result, the process is relatively straightforward. While the process itself is not difficult, it does require some intense physical labor. Tracks are very heavy and cumbersome to remove. Nevertheless, the process should take no more than a few hours, after which you'll be up and running again.
Lift the track steer off the ground. A hydraulic lift works best, but if you don't have one, jack the machine up and place blocks under the frame. Do not put the blocks under the tracks or you will not be able to remove them.
Remove the tensioner cover plate with your ratchet set. Remove the grease zerk, also with the ratchet set. Inside the hole the into which the zerk was threaded, you will find a check ball.
Push the 1/4-inch flathead into the hole and force back the check ball. Grease will begin spilling from the hole. The track tension wheel will begin to loosen and move downward. If the track tension wheel does not move down to the point that you can remove the track, press down on it with the breaking bar. Remove the track from the tensioner wheel and the drive sprocket.
Re-thread the grease zerk in the hole from which you removed it. Put the replacement track over the drive sprocket and tensioner wheel, in that order. The links of the track must straddle the teeth of the drive sprocket.
Pump grease into the tensioner's zerk with the grease gun. Fill the tensioner with grease until the tensioner wheel removes the slack from the track. When you stand on the track, it should not sag more than two or three inches -- you want the track tight.
Replace the tensioner cover plate and lower the track steer to the ground.