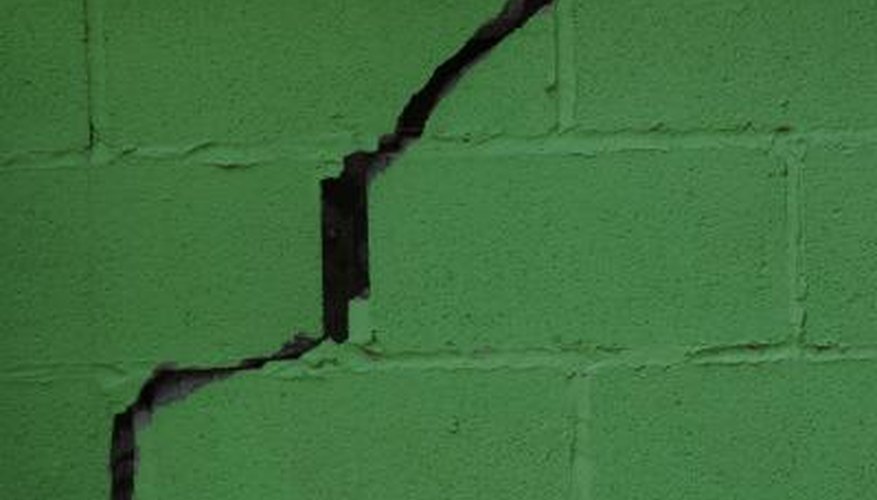 Jupiterimages/Photos.com/Getty Images
Hydrostatic pressure results from saturation of soil due to excessive rain or drainage problems. Saturated soils expand and press against the concrete blocks of a basement or retaining wall, causing cracks and bulging of the wall. This problem is more likely to occur when backfill soils contain clay, which expands when wet. The greater the clay content of the soil, the greater the hydrostatic pressure probability. Correct shifted concrete blocks using helical screw anchors.
Step 1
Dig a hole outside the damaged wall. Dig to a depth below the damaged portion of the wall.
Step 2
Working from the inside, drill small holes, six inches apart, in the concrete blocks. Drill through to the hole outside the wall.
Step 3
Insert galvanized steel rods into the holes in the concrete blocks.
Step 4
Insert helical screw heads onto the steel rods. Using a hydraulic torque motor, screw the helical screws into the soil until they are firmly set.
Step 5
Insert a solid threaded bar into each helical anchor. Fit the inside end of the rod through the hole in a steel retaining plate. Screw a nut onto each bar to hold the bars in place.
Step 6
After all rods and plates are in place, tighten the nuts on the rods to pull the concrete blocks back into position.
Things You Will Need
Shovel

Hand drill

Hydraulic torque motor

Helical screws

Galvanized steel rods

Solid threaded bars

Steel retaining plates

Nuts